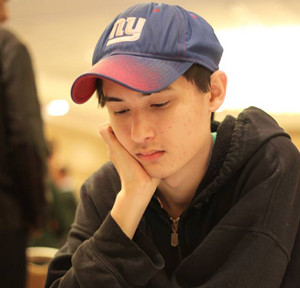 This game did not manage to win first place during its week nor did it manage to get any first or second place votes for Game of the Year but that didn't stop it from winning as a surprising Wildcard game takes the top honor for 2015
This is the final part in a series of articles which has counted down to revealing what game was voted as the 2015 USCL Game of the Year. For more information on exactly how this process worked and the prize information, please refer to: Game of the Year Contest
————————————————————————————————————————————————————————————————————–
1st Place: IM Alexander Katz (NE) vs GM Giorgi Kacheishvili (MAN) 1-0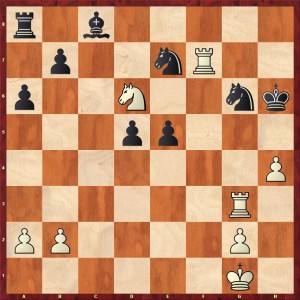 The strong 28. h5! forced Black to return his extra material giving White a winning endgame in a flawless performance
FM Ron Young (3rd Place, 18 Points): I remember back in junior high school, a fellow player in our little league shared with me the sentiment "I like Rooks, but they're so hard to get into action". I sympathized, and have spent too much of my subsequent life struggling to get my Rooks into action, so I appreciate how brilliantly Katz solved the problem here. Of course, having a Knight on d6 doesn't hurt. But it isn't as if it were born there. Good job, White. I rank it high.
SM Craig Hilby (3rd Place, 18 Points): Alex got a great position after Giorgi failed to find 13… g5! (with a complicated position), and after the sensible and good 16. Qh5 (engine at first screams out Bxh7+, but slowly realizes Qh5 is just as good) Katz got into an advantageous endgame, which he quickly turned into a winning endgame, which he won without too many difficulties. I thought it was very smooth, accurate, and confident play by Alexander.
NM Randy Bauer (3rd Place, 18 Points): An excellent demonstration of the power of the two Rooks on an open board, where they overwhelm the Black minor pieces. Combined with the White Knight on d6, this is an instructive example of the power of well placed pieces.
FM Varun Krishnan (4th Place, 17 Points): It might be shocking, but what seems to be a thematic exchange sac with 14… Rxf3 is actually the losing mistake. Proving this takes painstaking accuracy, but that's what Alex comes up with – from a Bishop sac to a mating net, overall making this a brilliant win!
GM Eric Hansen (9th Place, 12 Points): A big upset by Katz. Good opening followed by even more impressive technique. He instructively shows how a Rook beats two pieces versus a very good GM in Kacheishvili.
IM Jan van de Mortel (9th Place, 12 Points): Two players going for gold deserves praise by definition. Black gambled sacrificing the exchange and paid a dear price. Waves of attack perfectly executed. Certainly deserving of some praise, though not the highest praise in this competition.
FM Alex Barnett (10th Place, 11 Points): Idk how to rank this game because idk when theory stops and the game starts. It looks to me like the whole 14… Rxf3 thing just doesn't work in this position, and White played perfectly and won easily. Trading Queens followed by castling and lifting the Rook was tight though.
Total Score of Katz vs Kacheishvili: (1st Place, 106 Points)
————————————————————————————————————————————————————————————————————–
Final 2015 Game of the Year Standings:

1st Place (106 Points): IM Alexander Katz (NE) vs GM Giorgi Kacheishvili (MAN) 1-0 Article Elimination Article

2nd Place (94 Points): GM Alejandro Ramirez (STL) vs GM Jeffery Xiong (DAL) 0-1 Article Elimination Article

3rd Place (92 Points): GM Kayden Troff (LV) vs GM Illya Nyzhnyk (STL) 0-1 Article Elimination Article

4th Place (92 Points): IM Danny Edelman (CON) vs GM Alex Stripunsky (NJ) 0-1 Article Elimination Article

5th Place (88 Points): FM Elliott Liu (LV) vs FM Ali Morshedi (SD) 1-0 Article Elimination Article

6th Place (87 Points): GM Pascal Charbonneau (NY) vs GM Joel Benjamin (NJ) 1/2-1/2 Article Elimination Article

7th Place (83 Points): IM Ruifeng Li (DAL) vs GM Varuzhan Akobian (STL) 0-1 Article Elimination Article

8th Place (83 Points): IM Georgi Orlov (SEA) vs GM Timur Gareyev (LV) 0-1 Article Elimination Article

9th Place (79 Points): GM Jeffery Xiong (DAL) vs GM Enrico Sevillano (LV) 1-0 Article Elimination Article

10th Place (79 Points): GM Zviad Izoria (MAN) vs GM Maxim Dlugy (CON) 1/2-1/2 Article Elimination Article

11th Place (78 Points): IM Tom Bartell (PHI) vs GM Alex Stripunsky (NJ) 0-1 Article Elimination Article

12th Place (76 Points): FM Andy Lee (SF) vs FM Pedram Atoufi (ARZ) 0-1 Article Elimination Article

13th Place (71 Points): GM Timur Gareyev (LV) vs GM Rogelio Barcenilla (ARZ) 1/2-1/2 Article Elimination Article

14th Place (68 Points): NM Ilya Krasik (BOS) vs NM Brandon Jacobson (NJ) 1-0 Article Elimination Article

15th Place (66 Points): GM Daniel Naroditsky (SF) vs GM Wesley So (MIN) 0-1 Article Elimination Article

16th Place (65 Points): GM Illya Nyzhnyk (STL) vs GM Alex Lenderman (MAN) 1-0 Article Elimination Article

17th Place (53 Points): GM Conrad Holt (DAL) vs GM Illya Nyzhnyk (STL) 1-0 Article Elimination Article

18th Place (44 Points): GM Zviad Izoria (MAN) vs SM Mika Brattain (NE) 1-0 Article Elimination Article

19th Place (34 Points): NM Ilya Krasik (BOS) vs Dennis Li (CON) 1-0 Article Elimination Article

20th Place (32 Points): IM Kassa Korley (CAR) vs GM Alex Stripunsky (NJ) 1-0 Article Elimination Article