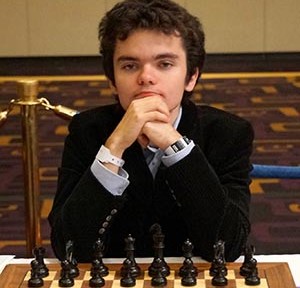 Definitely one of the more unique games in the contest and that definitely caught the eyes of the judges who were impressed by GM Nyzhnyk's skillful maneuvering as well as his nice exchange sacrifice which helped him break through
This is the eighteenth part in a series of articles which will count down to revealing what game was voted as the 2015 USCL Game of the Year. For more information on exactly how this process works and the prize information, please refer to: Game of the Year Contest
————————————————————————————————————————————————————————————————————–
3rd Place: GM Kayden Troff (LV) vs GM Illya Nyzhnyk (STL) 0-1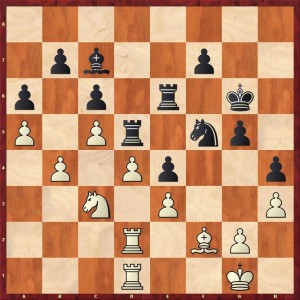 The contest had an abundance of exchange sacrifices but this one was fairly unique as the strong 38… Ne7!, removing White's defensive Knight, allowed Black to finally make use of his positional domination
SM Craig Hilby (1st Place, 20 Points): Kayden played a rare (but playable, of course) line with 6. a4 in the Slav, and Illya responded with the principled e5 push. It soon became a maneuvering game, where Illya expertly improved his pieces to the maximum and showed his knowledge of the structure. In the endgame, Illya masterfully used the d5 square, patiently bringing his King in and ever so slowly improving his position. It was a very clean win where Illya showed his class and skill.
NM Randy Bauer (2nd Place, 19 Points): Black's constricting play, including a positional exchange sacrifice and patient building up of his position was fascinating to observe – and White had seemingly few opportunities to escape his passive defense.
FM Alex Barnett (3rd Place, 18 Points): It gives me such joy to watch people who play like nits go down in flames! ooohhh a4 a5 b4 Na4-b6-xc8 … cool plan bro. except not, because that's inf tempi wasted on the Queenside while Black was getting it going on the part of the board that actually matters. Lol @ that Bishop on c1. It's a victory for the game of chess when a chess-nit tries to torture and grind out his opponent with some uneventful line, and he ends up being the one getting ground out himself. I'm playing through these games anonymously so don't take my comments personally whoever you are. 38… Ne7 OMMGGGGG another exchange sac! Let me just chill down an exchange no big deal. And then let me walk my King up the board by force.
FM Varun Krishnan (3rd Place, 18 Points): This game reminds me of some of the famous online Nakamura games vs Rybka and Crafty, and indeed, the blocked position that arises in this game fools even the engines. Overall, Nyzhnyk beautifully converts this blocked position into a full point.
FM Ron Young (11th Place, 10 Points): I'm not sure what White's a4-a5 opening plan was about but I guess he felt the Pawn would look sillier if the game opened up, and so allowed Black the central spearhead simply to keep it closed. After Black's exchange sac, the game resembles a Computer-Nakamura internet bullet game (featuring 'premove', of course), and somewhere around move 51 I can hear Nimzowitsch say "the Black King finds itself in a position to which as a rule he would only be consigned in a problem". This King, though, proves to be the MVP of the game, and I expect I'll rank this in the top half, anyway. Now though I have reached my deadline, and I have to send all this in.
Postscript–Well, not quite the top half after all. On slightly deeper thought, it would be disappointing if a one-minute game with a computer were better than half the Game of the Year nominees.
IM Jan van de Mortel (17th Place, 4 Points): One of the strangest games in the contest. A lot has changed since I was young, but severe punishment would have been meted out by my mentors had I allowed Black to lock the Queenside in this structure (with 12… a6) only to proceed to trade the 'bad' Bishop from a few moves ago (with 13. Na4-b6xc8). I am afraid that the rest of the game, although a skillful utilization of Black trumps, speaks for itself. Amazing how long White manages to last, pleasingly masochistic how Black brings home the point.
GM Eric Hansen (18th Place, 3 Points): I was there in person to witness Ilya's technical grind. Unfortunately I can't rate the game too highly because White's opening was pretty bad. Giving up space for free is usually a no no especially against a player as good as Nyzhnyk.
Total Score of Troff vs Nyzhnyk: (3rd Place, 92 Points)
————————————————————————————————————————————————————————————————————–
Stay tuned for the final two articles tomorrow as we announce the 2015 Game of the Year!

Week 3: GM Alejandro Ramirez (STL) vs GM Jeffery Xiong (DAL) 0-1 Article

Wildcard #2: IM Alexander Katz (NE) vs GM Giorgi Kacheishvili (MAN) 1-0 Article
Eliminated:

3rd Place (92 Points): GM Kayden Troff (LV) vs GM Illya Nyzhnyk (STL) 0-1 Article Elimination Article

4th Place (92 Points): IM Danny Edelman (CON) vs GM Alex Stripunsky (NJ) 0-1 Article Elimination Article

5th Place (88 Points): FM Elliott Liu (LV) vs FM Ali Morshedi (SD) 1-0 Article Elimination Article

6th Place (87 Points): GM Pascal Charbonneau (NY) vs GM Joel Benjamin (NJ) 1/2-1/2 Article Elimination Article

7th Place (83 Points): IM Ruifeng Li (DAL) vs GM Varuzhan Akobian (STL) 0-1 Article Elimination Article

8th Place (83 Points): IM Georgi Orlov (SEA) vs GM Timur Gareyev (LV) 0-1 Article Elimination Article

9th Place (79 Points): GM Jeffery Xiong (DAL) vs GM Enrico Sevillano (LV) 1-0 Article Elimination Article

10th Place (79 Points): GM Zviad Izoria (MAN) vs GM Maxim Dlugy (CON) 1/2-1/2 Article Elimination Article

11th Place (78 Points): IM Tom Bartell (PHI) vs GM Alex Stripunsky (NJ) 0-1 Article Elimination Article

12th Place (76 Points): FM Andy Lee (SF) vs FM Pedram Atoufi (ARZ) 0-1 Article Elimination Article

13th Place (71 Points): GM Timur Gareyev (LV) vs GM Rogelio Barcenilla (ARZ) 1/2-1/2 Article Elimination Article

14th Place (68 Points): NM Ilya Krasik (BOS) vs NM Brandon Jacobson (NJ) 1-0 Article Elimination Article

15th Place (66 Points): GM Daniel Naroditsky (SF) vs GM Wesley So (MIN) 0-1 Article Elimination Article

16th Place (65 Points): GM Illya Nyzhnyk (STL) vs GM Alex Lenderman (MAN) 1-0 Article Elimination Article

17th Place (53 Points): GM Conrad Holt (DAL) vs GM Illya Nyzhnyk (STL) 1-0 Article Elimination Article

18th Place (44 Points): GM Zviad Izoria (MAN) vs SM Mika Brattain (NE) 1-0 Article Elimination Article

19th Place (34 Points): NM Ilya Krasik (BOS) vs Dennis Li (CON) 1-0 Article Elimination Article

20th Place (32 Points): IM Kassa Korley (CAR) vs GM Alex Stripunsky (NJ) 1-0 Article Elimination Article