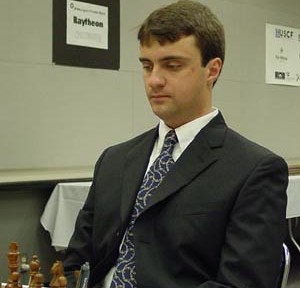 In yet another nice exchange sacrifice, GM Stripunsky's second game featuring that in the Contest, his strong play and dominating Bishops earned high marks from the judges.
This is the seventeenth part in a series of articles which will count down to revealing what game was voted as the 2015 USCL Game of the Year. For more information on exactly how this process works and the prize information, please refer to: Game of the Year Contest
————————————————————————————————————————————————————————————————————–
4th Place: IM Danny Edelman (CON) vs GM Alex Stripunsky (NJ) 0-1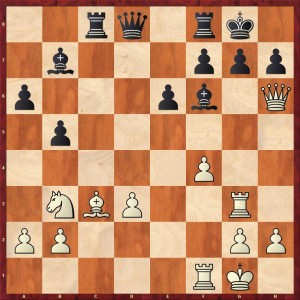 Strong exchange sacrifices were somewhat of a constant theme in this contest and this game would be no exception as the nice 20… Rxc3! gave GM Stripunsky a strong pair of Bishops which he used to brutal effect
FM Alex Barnett (5th Place, 16 Points): KAN BABY! Instructive one too. White's setup is pretty whatever though, not really dangerous. when White doesn't go for the kill vs the Kan, Black just chills and wins. 12… Ne5 and take d3, White has no attack, and Black just slowly took over while White's position is straight up silly. Oh and ANOTHER exchange sac! Those Bishops!!
NM Randy Bauer (5th Place, 16 Points): An interesting exchange sacrifice that works when White gets perhaps a bit too preoccupied with the Kingside. It seemed that White might have been able to bail out a bit earlier, although the two Bishops are very strong – a nice technical performance in the endgame by Black.
GM Eric Hansen (6th Place, 15 Points): Stripunsky brings home the point with a nice exchange sacrifice. An educational display of piece value and playing against a Knight on b3 that so often happens in Sicilians.
FM Ron Young (6th Place, 15 Points): In the Sicilian Defense, White's Queen going to h3 seem to be more promising when there is stuff going on on light squares, for instance, e6. If it's a plan to double the heavies, it's going to be challenging. 15. Re3 looks awkward, but within a few moves White's attack reaches its zenith. Black responded with a strong exchange sac. Yeah, but it was forced. True, but he had to know it would be there. Yeah, but why shouldn't it be there? I'm just talking it out for my own benefit. I think it's helped me. I thought I would rank this higher originally, before I talked it out. Thank you, Pat Sajak.
SM Craig Hilby (6th Place, 15 Points): White played without a clear plan in the opening (9. Qf3 made little sense, Qg4 disrupting Black's development was much more logical), and in the Kan this results in Black being better straight out of the opening. Later, Alex played a very nice exchange sac, after which Black easily diffused the Kingside pressure, showed the power of the Bishops, and never let up.
FM Varun Krishnan (13th Place, 8 Points): This game featured a very nice exchange sacrifice by Stripunsky, who went on to execute his play with accurate play and a Queenside majority. Overall, it was very nice, but a bit too thematic to be ranked higher.
IM Jan van de Mortel (14th Place, 7 Points): This game can confidently be filed under the chapter "How to exploit a Bishop Pair". It is a bit too one-sides to rank it very high in this contest, but brilliant exploitation on Black's part.
Total Score of Edelman vs Stripunsky: (4th Place, 92 Points)
————————————————————————————————————————————————————————————————————–
Stay tuned for three more such articles as the field shrinks by one game almost every day to see which of the following games will be the 2015 Game of the Year!

Week 3: GM Alejandro Ramirez (STL) vs GM Jeffery Xiong (DAL) 0-1 Article

Wildcard #2: IM Alexander Katz (NE) vs GM Giorgi Kacheishvili (MAN) 1-0 Article

Wildcard #3: GM Kayden Troff (LV) vs GM Illya Nyzhnyk (STL) 0-1 Article
Eliminated:

4th Place (92 Points): IM Danny Edelman (CON) vs GM Alex Stripunsky (NJ) 0-1 Article Elimination Article

5th Place (88 Points): FM Elliott Liu (LV) vs FM Ali Morshedi (SD) 1-0 Article Elimination Article

6th Place (87 Points): GM Pascal Charbonneau (NY) vs GM Joel Benjamin (NJ) 1/2-1/2 Article Elimination Article

7th Place (83 Points): IM Ruifeng Li (DAL) vs GM Varuzhan Akobian (STL) 0-1 Article Elimination Article

8th Place (83 Points): IM Georgi Orlov (SEA) vs GM Timur Gareyev (LV) 0-1 Article Elimination Article

9th Place (79 Points): GM Jeffery Xiong (DAL) vs GM Enrico Sevillano (LV) 1-0 Article Elimination Article

10th Place (79 Points): GM Zviad Izoria (MAN) vs GM Maxim Dlugy (CON) 1/2-1/2 Article Elimination Article

11th Place (78 Points): IM Tom Bartell (PHI) vs GM Alex Stripunsky (NJ) 0-1 Article Elimination Article

12th Place (76 Points): FM Andy Lee (SF) vs FM Pedram Atoufi (ARZ) 0-1 Article Elimination Article

13th Place (71 Points): GM Timur Gareyev (LV) vs GM Rogelio Barcenilla (ARZ) 1/2-1/2 Article Elimination Article

14th Place (68 Points): NM Ilya Krasik (BOS) vs NM Brandon Jacobson (NJ) 1-0 Article Elimination Article

15th Place (66 Points): GM Daniel Naroditsky (SF) vs GM Wesley So (MIN) 0-1 Article Elimination Article

16th Place (65 Points): GM Illya Nyzhnyk (STL) vs GM Alex Lenderman (MAN) 1-0 Article Elimination Article

17th Place (53 Points): GM Conrad Holt (DAL) vs GM Illya Nyzhnyk (STL) 1-0 Article Elimination Article

18th Place (44 Points): GM Zviad Izoria (MAN) vs SM Mika Brattain (NE) 1-0 Article Elimination Article

19th Place (34 Points): NM Ilya Krasik (BOS) vs Dennis Li (CON) 1-0 Article Elimination Article

20th Place (32 Points): IM Kassa Korley (CAR) vs GM Alex Stripunsky (NJ) 1-0 Article Elimination Article