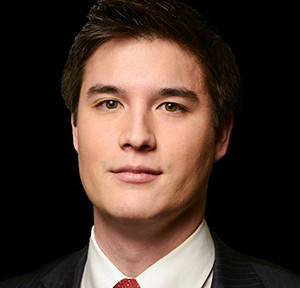 The 2015 MVP and Rookie of the Year added another feather in his cap with a Top Five finish in Game of the Year as his nice piece sacrifice followed up precisely met with widespread approval from the judges.
This is the sixteenth part in a series of articles which will count down to revealing what game was voted as the 2015 USCL Game of the Year. For more information on exactly how this process works and the prize information, please refer to: Game of the Year Contest
————————————————————————————————————————————————————————————————————–
5th Place: FM Elliott Liu (LV) vs FM Ali Morshedi (SD) 1-0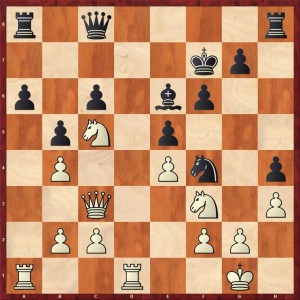 With 24. Nxe5+!, FM Liu broke open FM Morshedi's King and followed up very precisely to score one of his many victories of the season
FM Varun Krishnan (2nd Place, 19 Points): What an attack by Elliott! From 24. Nxe5+ to 31. f6, this was simply blow after blow, and what is so amazing is how accurate these blows were!
GM Eric Hansen (4th Place, 17 Points): The highest scoring player powerfully refutes a suspicious opening. The piece sacrifice nicely exploited Black's complete lack of coordination.
FM Ron Young (8th Place, 13 Points): As far as I can see, Magnus Carlsen has never played the Norwegian variation against the Ruy. So how Norwegian is it, actually? Or how Norwegian is Magnus? But that's for others to worry about. One thing, though, when your opponent plays it you know he likes Bishops, and he probably won't give one up just to double your pawns. So play h3, but preventing surprise back-rank checkmate mate is just one small step toward winning the game, and White did the latter in style. Good job.
FM Alex Barnett (9th Place, 12 Points): I mean, really dude, 5… Na5? oh NAHHH. This whole setup is wack. And White knew exactly how to exploit it to the max. 11. Qd3 12. Rd1, correctly timed 15. dxe5 to force the d pawn to recapture, and then abuse the c5 square. This was just a one-sided bone.
IM Jan van de Mortel (10th Place, 11 Points): Black's very provocative opening play has backfired completely by the time a Knight lands on c5. The Queenside is gone and the manner in which White also conquers the Kingside is impressive.
SM Craig Hilby (12th Place, 9 Points): Elliott played very well, but Black misplayed the opening (9… Bg4 makes little sense) and Elliott got a solid advantage. White broke through with the very nice 24. Nxe5+! and followed up very precisely to win.
NM Randy Bauer (14th Place, 7 Points): I don't 'get' Black's opening play here – after 17 moves, he has at best one well developed piece and a variety of weaknesses. White plays a nice piece sacrifice, but Black just never seems to be in this game.
Total Score of Liu vs Morshedi: (5th Place, 88 Points)
————————————————————————————————————————————————————————————————————–
Stay tuned for four more such articles as the field shrinks by one game almost every day to see which of the following games will be the 2015 Game of the Year!

Week 3: GM Alejandro Ramirez (STL) vs GM Jeffery Xiong (DAL) 0-1 Article

Week 8: IM Danny Edelman (CON) vs GM Alex Stripunsky (NJ) 0-1 Article

Wildcard #2: IM Alexander Katz (NE) vs GM Giorgi Kacheishvili (MAN) 1-0 Article

Wildcard #3: GM Kayden Troff (LV) vs GM Illya Nyzhnyk (STL) 0-1 Article
Eliminated:

5th Place (88 Points): FM Elliott Liu (LV) vs FM Ali Morshedi (SD) 1-0 Article Elimination Article

6th Place (87 Points): GM Pascal Charbonneau (NY) vs GM Joel Benjamin (NJ) 1/2-1/2 Article Elimination Article

7th Place (83 Points): IM Ruifeng Li (DAL) vs GM Varuzhan Akobian (STL) 0-1 Article Elimination Article

8th Place (83 Points): IM Georgi Orlov (SEA) vs GM Timur Gareyev (LV) 0-1 Article Elimination Article

9th Place (79 Points): GM Jeffery Xiong (DAL) vs GM Enrico Sevillano (LV) 1-0 Article Elimination Article

10th Place (79 Points): GM Zviad Izoria (MAN) vs GM Maxim Dlugy (CON) 1/2-1/2 Article Elimination Article

11th Place (78 Points): IM Tom Bartell (PHI) vs GM Alex Stripunsky (NJ) 0-1 Article Elimination Article

12th Place (76 Points): FM Andy Lee (SF) vs FM Pedram Atoufi (ARZ) 0-1 Article Elimination Article

13th Place (71 Points): GM Timur Gareyev (LV) vs GM Rogelio Barcenilla (ARZ) 1/2-1/2 Article Elimination Article

14th Place (68 Points): NM Ilya Krasik (BOS) vs NM Brandon Jacobson (NJ) 1-0 Article Elimination Article

15th Place (66 Points): GM Daniel Naroditsky (SF) vs GM Wesley So (MIN) 0-1 Article Elimination Article

16th Place (65 Points): GM Illya Nyzhnyk (STL) vs GM Alex Lenderman (MAN) 1-0 Article Elimination Article

17th Place (53 Points): GM Conrad Holt (DAL) vs GM Illya Nyzhnyk (STL) 1-0 Article Elimination Article

18th Place (44 Points): GM Zviad Izoria (MAN) vs SM Mika Brattain (NE) 1-0 Article Elimination Article

19th Place (34 Points): NM Ilya Krasik (BOS) vs Dennis Li (CON) 1-0 Article Elimination Article

20th Place (32 Points): IM Kassa Korley (CAR) vs GM Alex Stripunsky (NJ) 1-0 Article Elimination Article