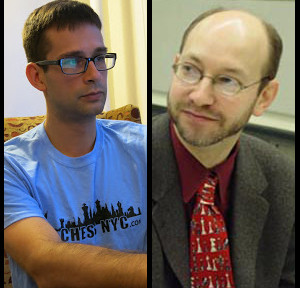 The final draw left and one of the other few endgames in the contest just misses out on the Top Five, but managed this high ranking via the judges generally being impressed by the high level of play.
This is the fifteenth part in a series of articles which will count down to revealing what game was voted as the 2015 USCL Game of the Year. For more information on exactly how this process works and the prize information, please refer to: Game of the Year Contest
————————————————————————————————————————————————————————————————————–
6th Place: GM Pascal Charbonneau (NY) vs GM Joel Benjamin (NJ) 1/2-1/2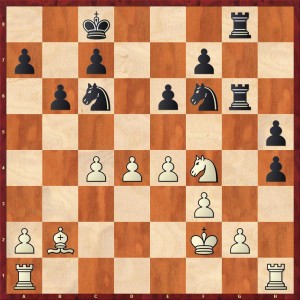 In a seemingly uneventful endgame, GM Benjamin threw the game for an interesting loop with 20… Nxe4+!, after which some interesting complications eventually lead to a fair draw
IM Jan van de Mortel (3rd Place, 18 Points): "Who would want to play that endgame as Black?!" was my first thought when I watched this battle on game day. Even after going over this game several times, I still can't believe it ended in a draw; I would have lost it with either color. One of those classic USCL endgame battles that forces you to sacrifice your whole evening observing from the side lines.
GM Eric Hansen (5th Place, 16 Points): A hard fought game in the Playoffs. A very interesting sacrifice which required some unorthodox maneuvering from both sides. Both sides played very well.
SM Craig Hilby (5th Place, 16 Points): Despite the peaceful result, this was a back and forth game with immense fighting spirit from both players. Pascal got a very nice position from the opening, but Joel fought back ferociously with 20… Nxe4+! to keep the game interesting. There were mistakes later in the game (presumably in time pressure) but overall both sides played very well.
FM Ron Young (9th Place, 12 Points): Should Benjamin someday decide that the rigors of tournament play are too daunting, he might consider a chessic road show, and do for audiences a Koltanowski-like blindfold Knight's tour of the squares he has sacrificed Knights on. I am thinking of f4 against Jay Whitehead, f3 against Alexander Ivanov, e4 here, and I'll leave it at those (but I'm sure you can think of 61 others). Do they still have an off-day during the US Open? That'd be a good time. Or maybe on those chess cruises, between shuffleboard games. Of course, it takes two to tango, so I should not ignore the other player. His name is Pascal Charbonneau, a long-time veteran of the league and an accomplished player in his own right. Almost won this game, in fact, and had the moral victory of having the opposition in the final position.
NM Randy Bauer (10th Place, 11 Points): Another interesting draw, with both sides providing positional and tactical counter play.
FM Alex Barnett (13th Place, 8 Points): Zzzzzzzzzzz. BUT, props to Black for trying to keep it fresh when White was obv just trying to hit up the zzzz draw. I feel 20… Nxe4. Unfortunately it wasn't enough to win. Moral victory goes to Black though because White played like he offered a draw on move 1 and Black declined.
FM Varun Krishnan (15th Place, 6 Points): 20… Nxe4 leads to a very interesting ending, one where Black is ultimately able to draw by the thinnest of margins. Very interesting stuff!
Total Score of Charbonneau vs Benjamin: (6th Place, 87 Points)
————————————————————————————————————————————————————————————————————–
Stay tuned for five more such articles as the field shrinks by one game almost every day to see which of the following games will be the 2015 Game of the Year!

Week 3: GM Alejandro Ramirez (STL) vs GM Jeffery Xiong (DAL) 0-1 Article

Week 8: IM Danny Edelman (CON) vs GM Alex Stripunsky (NJ) 0-1 Article

Week 10: FM Elliott Liu (LV) vs FM Ali Morshedi (SD) 1-0 Article

Wildcard #2: IM Alexander Katz (NE) vs GM Giorgi Kacheishvili (MAN) 1-0 Article

Wildcard #3: GM Kayden Troff (LV) vs GM Illya Nyzhnyk (STL) 0-1 Article
Eliminated:

6th Place (87 Points): GM Pascal Charbonneau (NY) vs GM Joel Benjamin (NJ) 1/2-1/2 Article Elimination Article

7th Place (83 Points): IM Ruifeng Li (DAL) vs GM Varuzhan Akobian (STL) 0-1 Article Elimination Article

8th Place (83 Points): IM Georgi Orlov (SEA) vs GM Timur Gareyev (LV) 0-1 Article Elimination Article

9th Place (79 Points): GM Jeffery Xiong (DAL) vs GM Enrico Sevillano (LV) 1-0 Article Elimination Article

10th Place (79 Points): GM Zviad Izoria (MAN) vs GM Maxim Dlugy (CON) 1/2-1/2 Article Elimination Article

11th Place (78 Points): IM Tom Bartell (PHI) vs GM Alex Stripunsky (NJ) 0-1 Article Elimination Article

12th Place (76 Points): FM Andy Lee (SF) vs FM Pedram Atoufi (ARZ) 0-1 Article Elimination Article

13th Place (71 Points): GM Timur Gareyev (LV) vs GM Rogelio Barcenilla (ARZ) 1/2-1/2 Article Elimination Article

14th Place (68 Points): NM Ilya Krasik (BOS) vs NM Brandon Jacobson (NJ) 1-0 Article Elimination Article

15th Place (66 Points): GM Daniel Naroditsky (SF) vs GM Wesley So (MIN) 0-1 Article Elimination Article

16th Place (65 Points): GM Illya Nyzhnyk (STL) vs GM Alex Lenderman (MAN) 1-0 Article Elimination Article

17th Place (53 Points): GM Conrad Holt (DAL) vs GM Illya Nyzhnyk (STL) 1-0 Article Elimination Article

18th Place (44 Points): GM Zviad Izoria (MAN) vs SM Mika Brattain (NE) 1-0 Article Elimination Article

19th Place (34 Points): NM Ilya Krasik (BOS) vs Dennis Li (CON) 1-0 Article Elimination Article

20th Place (32 Points): IM Kassa Korley (CAR) vs GM Alex Stripunsky (NJ) 1-0 Article Elimination Article