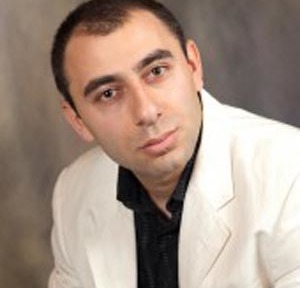 One of the very few games in the contest which was entirely an endgame effort unsurprisingly had some differing opinions, receiving the rare spectacle of both first and last place rankings from the judges.
This is the fourteenth part in a series of articles which will count down to revealing what game was voted as the 2015 USCL Game of the Year. For more information on exactly how this process works and the prize information, please refer to: Game of the Year Contest
————————————————————————————————————————————————————————————————————–
7th Place: IM Ruifeng Li (DAL) vs GM Varuzhan Akobian (STL) 0-1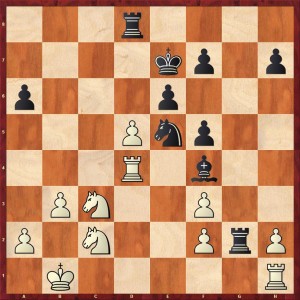 GM Akobian found the impressive 26… Rxf2! tactic, with his active Rooks eventually proving to be decisive
FM Ron Young (1st Place, 20 Points): At some point, if you "just play chess" while your opponent goes about capturing stuff, you will not have enough to just play chess with to overcome the opponent's material advantage. The art lies in determining just how much stuff you can let him take, and in this case, White could not take enough to deal with the chess that Black was playing. To be fair, that chess was pretty good, and it kept getting better. I'd say more, but the game speaks more eloquently for itself than I could hope to.
IM Jan van de Mortel (5th Place, 16 Points): If the success of White's opening depends on the maneuver Qc4xc7-c4xd5 then something must have gone wrong early on. It is almost like Black is playing a Scandinavian on steroids. Riveting display of tactics and technical skill to break White's resistance.
FM Varun Krishnan (5th Place, 16 Points): Quite a positional masterpiece by Varuzhan Akobian – first, he flouts conventional wisdom by saccing a Pawn to go into an ending with only a light square blockade to show for it. After slowly converting this advantage, he finishes it off in style with a Rook that dominates over White's hapless Knights.
GM Eric Hansen (8th Place, 13 Points): A clutch win by Akobian with Black. Played the opening correctly and cashed in on his strong pieces and initiative. A clean, professional win.
NM Randy Bauer (11th Place, 10 Points): White is punished for Pawn-grabbing, and Black's pressure (I really enjoyed the power of 16… Rg8) was impressive, even with Queens off the board. Perhaps White would have done better with a move like 16. c4, which seems a bit more harmonious and attempts to remind Black that the extra Pawn has value (and also makes …Rg8 a bit harder to accomplish).
SM Craig Hilby (14th Place, 7 Points): Ruifeng played a side variation 9. Qe2 and goes down the line, when suddenly he deviates with 16. b3? which immediately gives Black a comfortable edge right out of theory. Both sides made some inaccuracies down the road, when Ruifeng blundered with 28. Rc4??, showing a misunderstanding of the position by not knowing the Rooks would absolutely dominate the clumsy Knights on an open board. From there, the win was easy for Varuzhan.
FM Alex Barnett (20th Place, 1 Point): LOL @ this game. 19. Bf3 wins "most hurt move of the year".
Total Score of Li vs Akobian: (7th Place, 83 Points)
————————————————————————————————————————————————————————————————————–
Stay tuned for six more such articles as the field shrinks by one game almost every day to see which of the following games will be the 2015 Game of the Year!

Week 3: GM Alejandro Ramirez (STL) vs GM Jeffery Xiong (DAL) 0-1 Article

Week 8: IM Danny Edelman (CON) vs GM Alex Stripunsky (NJ) 0-1 Article

Week 10: FM Elliott Liu (LV) vs FM Ali Morshedi (SD) 1-0 Article

Quarterfinals: GM Pascal Charbonneau (NY) vs GM Joel Benjamin (NJ) 1/2-1/2 Article

Wildcard #2: IM Alexander Katz (NE) vs GM Giorgi Kacheishvili (MAN) 1-0 Article

Wildcard #3: GM Kayden Troff (LV) vs GM Illya Nyzhnyk (STL) 0-1 Article
Eliminated:

7th Place (83 Points): IM Ruifeng Li (DAL) vs GM Varuzhan Akobian (STL) 0-1 Article Elimination Article

8th Place (83 Points): IM Georgi Orlov (SEA) vs GM Timur Gareyev (LV) 0-1 Article Elimination Article

9th Place (79 Points): GM Jeffery Xiong (DAL) vs GM Enrico Sevillano (LV) 1-0 Article Elimination Article

10th Place (79 Points): GM Zviad Izoria (MAN) vs GM Maxim Dlugy (CON) 1/2-1/2 Article Elimination Article

11th Place (78 Points): IM Tom Bartell (PHI) vs GM Alex Stripunsky (NJ) 0-1 Article Elimination Article

12th Place (76 Points): FM Andy Lee (SF) vs FM Pedram Atoufi (ARZ) 0-1 Article Elimination Article

13th Place (71 Points): GM Timur Gareyev (LV) vs GM Rogelio Barcenilla (ARZ) 1/2-1/2 Article Elimination Article

14th Place (68 Points): NM Ilya Krasik (BOS) vs NM Brandon Jacobson (NJ) 1-0 Article Elimination Article

15th Place (66 Points): GM Daniel Naroditsky (SF) vs GM Wesley So (MIN) 0-1 Article Elimination Article

16th Place (65 Points): GM Illya Nyzhnyk (STL) vs GM Alex Lenderman (MAN) 1-0 Article Elimination Article

17th Place (53 Points): GM Conrad Holt (DAL) vs GM Illya Nyzhnyk (STL) 1-0 Article Elimination Article

18th Place (44 Points): GM Zviad Izoria (MAN) vs SM Mika Brattain (NE) 1-0 Article Elimination Article

19th Place (34 Points): NM Ilya Krasik (BOS) vs Dennis Li (CON) 1-0 Article Elimination Article

20th Place (32 Points): IM Kassa Korley (CAR) vs GM Alex Stripunsky (NJ) 1-0 Article Elimination Article