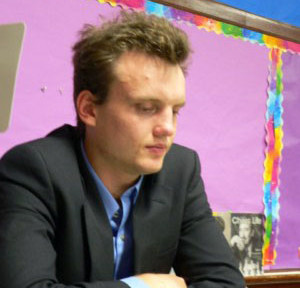 This back and forth game, like many others, received a fair variety of rankings as often happens in wild games with it being high in excitement value but more likely to have more blunders.
This is the thirteenth part in a series of articles which will count down to revealing what game was voted as the 2015 USCL Game of the Year. For more information on exactly how this process works and the prize information, please refer to: Game of the Year Contest
————————————————————————————————————————————————————————————————————–
8th Place: IM Georgi Orlov (SEA) vs GM Timur Gareyev (LV) 0-1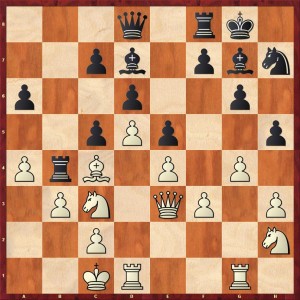 A very interesting sequence of play began with the exchange sacrifice 19… Rxc4!
GM Eric Hansen (2nd Place, 19 Points): A back and forth struggle that resembled some sort of King's Indian. Orlov was keeping up with Timur's energetic play until one mistake was decisively punished.
FM Alex Barnett (6th Place, 15 Points): This is what happens when you don't know what you're doing lol, just makes moves that look nice but then get eaten alive by the HIPPOOOO, Black has def seen these types of positions before, Nc5 Rb8-b4 etc. Interesting game, seems like White was just outclassed and caught off guard. That long-term exchange sac (another exchange sac lol) was deeeeeep. 18… Nh7 stopping gh because Qh4 just wrecks his structure is also legit. I like this game.
NM Randy Bauer (6th Place, 15 Points): Some extremely interesting complications – and Black's willingness to 'mix it up' on the Kingside with his King in the line of fire was impressive. My guess is White needed to try to bail out of the middlegame at some point, perhaps with 31. Qf2.
FM Varun Krishnan (10th Place, 11 Points): A fascinating exchange sacrifice and then victory by Timur Gareyev! I love the way that he carried out his attack, though the fact that 31. Qf2 would have probably been winning for White does spoil things a bit.
IM Jan van de Mortel (12th Place, 9 Points): Offbeat beginnings lead to a situation where Black soon gets to flaunt King's-Indian-style magic (19… Rxc4!) for which White certainly can blame himself. Luckily for him (and the audience) he gets a second chance when Black's King makes a few missteps and the roller coaster ride is on. It could have been anybody's game at that point, but one moment of greed (31. Qxc5??) gets punished efficiently.
FM Ron Young (12th Place, 9 Points): The late Robert Byrne, for all his chessic erudition, used in his old NY Times column constantly to refer to the Hedgehog defense as the Hippopotamus. I, roughly an expert at the time, knew very well that a hippo is not a hedgehog. But then Joel Benjamin, I think it was, once said "chess first, nomenclature second", and well said, regardless of who exactly did say it. This game features plenty of both. Fianchetto, sacrifice, pin, lever, but also 19… Rxc4, 24… Kf8, 26… Kg8, and for 36 moves, all six different types of piece (in the generic, "game piece" sense) on the board. Definitely something meant to be watched on a wide screen.
SM Craig Hilby (16th Place, 5 Points): You can always count on Timur to be creative with what he brings to the board (both physically and mentally). Here, he played the Hippo, and somehow got an advantage straight out of the opening. He built up the advantage (I thought 19… Rxc4 was really nice), but suddenly, from moves 26-31, the position got tactical and both players played pretty questionably. Timur emerged victorious from the tactics and won (albeit with some questionable technique).
Total Score of Orlov vs Gareyev: (8th Place, 83 Points)
————————————————————————————————————————————————————————————————————–
Stay tuned for seven more such articles as the field shrinks by one game almost every day to see which of the following games will be the 2015 Game of the Year!

Week 3: GM Alejandro Ramirez (STL) vs GM Jeffery Xiong (DAL) 0-1 Article

Week 8: IM Danny Edelman (CON) vs GM Alex Stripunsky (NJ) 0-1 Article

Week 10: FM Elliott Liu (LV) vs FM Ali Morshedi (SD) 1-0 Article

Quarterfinals: GM Pascal Charbonneau (NY) vs GM Joel Benjamin (NJ) 1/2-1/2 Article

Semifinals: IM Ruifeng Li (DAL) vs GM Varuzhan Akobian (STL) 0-1 Article

Wildcard #2: IM Alexander Katz (NE) vs GM Giorgi Kacheishvili (MAN) 1-0 Article

Wildcard #3: GM Kayden Troff (LV) vs GM Illya Nyzhnyk (STL) 0-1 Article
Eliminated:

8th Place (83 Points): IM Georgi Orlov (SEA) vs GM Timur Gareyev (LV) 0-1 Article Elimination Article

9th Place (79 Points): GM Jeffery Xiong (DAL) vs GM Enrico Sevillano (LV) 1-0 Article Elimination Article

10th Place (79 Points): GM Zviad Izoria (MAN) vs GM Maxim Dlugy (CON) 1/2-1/2 Article Elimination Article

11th Place (78 Points): IM Tom Bartell (PHI) vs GM Alex Stripunsky (NJ) 0-1 Article Elimination Article

12th Place (76 Points): FM Andy Lee (SF) vs FM Pedram Atoufi (ARZ) 0-1 Article Elimination Article

13th Place (71 Points): GM Timur Gareyev (LV) vs GM Rogelio Barcenilla (ARZ) 1/2-1/2 Article Elimination Article

14th Place (68 Points): NM Ilya Krasik (BOS) vs NM Brandon Jacobson (NJ) 1-0 Article Elimination Article

15th Place (66 Points): GM Daniel Naroditsky (SF) vs GM Wesley So (MIN) 0-1 Article Elimination Article

16th Place (65 Points): GM Illya Nyzhnyk (STL) vs GM Alex Lenderman (MAN) 1-0 Article Elimination Article

17th Place (53 Points): GM Conrad Holt (DAL) vs GM Illya Nyzhnyk (STL) 1-0 Article Elimination Article

18th Place (44 Points): GM Zviad Izoria (MAN) vs SM Mika Brattain (NE) 1-0 Article Elimination Article

19th Place (34 Points): NM Ilya Krasik (BOS) vs Dennis Li (CON) 1-0 Article Elimination Article

20th Place (32 Points): IM Kassa Korley (CAR) vs GM Alex Stripunsky (NJ) 1-0 Article Elimination Article