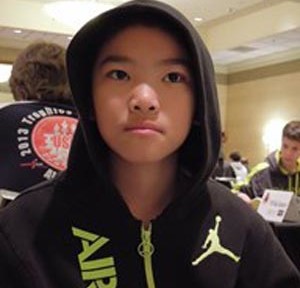 Yet another game which received a wide variety of rankings from all over the spectrum and wound up fittingly finishing near the middle.
This is the twelfth part in a series of articles which will count down to revealing what game was voted as the 2015 USCL Game of the Year. For more information on exactly how this process works and the prize information, please refer to: Game of the Year Contest
————————————————————————————————————————————————————————————————————–
9th Place: GM Jeffery Xiong (DAL) vs GM Enrico Sevillano (LV) 1-0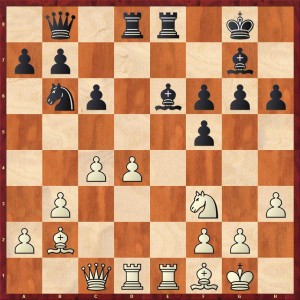 With the strong 20. d5!, GM Xiong worked his way towards Black's King, and eventually broke through on the dark squares in attractive fashion
GM Eric Hansen (1st Place, 20 Points): I like this game a lot – good everything. A fine display of class chess by rising star Xiong.
FM Varun Krishnan (6th Place, 15 Points): Starting with 20. d5, I was very impressed with how Jeffery conducted this game positionally. Later on, this became dark square domination after 22. Qa1!, a cool way to force off the dark squared Bishops and create a bunch of glaring holes in Black's position.
FM Alex Barnett (7th Place, 14 Points): I like this game. It's actually chess where I can follow what's going on. Unlike a lot of these other games that look like they were played by computers until move like 15 and I have to pretend like I know what's going on. Solid and smooth victory. 7… exf6 in the opening is ugly though. Looks like it just leads to an inferior position
SM Craig Hilby (8th Place, 13 Points): Jeffery played very well throughout, I was impressed by the complete restriction of Black's pieces starting with 14. c4. However, I got the sense that Enrico was playing without any idea of what to do in the middlegame (really, 19… f6?), and could have at many points maneuvered the b6 Knight to a better square on d6 or f6. Jeffery's trade into good Knight vs bad Bishop was strategically nice, and the win was easy from there.
NM Randy Bauer (12th Place, 9 Points): White shows nice technique – particularly the power of a Knight against a bad Bishop. That said, 33… Qe4 is a serious blunder that loses immediately to 34. Ne5, and while White is clearly better after other (non-losing) moves, there is still work to do.
FM Ron Young (15th Place, 6 Points): I think I see White's idea with 13. Ba3 (supporting an eventual c5 after a future d5 sac, after which maybe Nd4?). In any case, he always looked in control and was probably on his way to winning, but Black's 33… Qe4 blunder left the game, if more than a mere torso, something less than a finished statue.
IM Jan van de Mortel (19th Place, 2 Points): White does well to highlight the problem of this doubled-f-pawn structure and 19… f6 is a clear sign that something has gone terribly wrong for Black. White's subsequent decision to aim for the Kingside (why not 22. dxc6?) makes little sense to me. Granted Black is still suffering, but had he played 27… Qb5 then this game would not be featured in GOTY.
Total Score of Xiong vs Sevillano: (9th Place, 79 Points)
————————————————————————————————————————————————————————————————————–
Stay tuned for eight more such articles as the field shrinks by one game almost every day to see which of the following games will be the 2015 Game of the Year!

Week 3: GM Alejandro Ramirez (STL) vs GM Jeffery Xiong (DAL) 0-1 Article

Week 8: IM Danny Edelman (CON) vs GM Alex Stripunsky (NJ) 0-1 Article

Week 10: FM Elliott Liu (LV) vs FM Ali Morshedi (SD) 1-0 Article

Quarterfinals: GM Pascal Charbonneau (NY) vs GM Joel Benjamin (NJ) 1/2-1/2 Article

Semifinals: IM Ruifeng Li (DAL) vs GM Varuzhan Akobian (STL) 0-1 Article

Wildcard #2: IM Alexander Katz (NE) vs GM Giorgi Kacheishvili (MAN) 1-0 Article

Wildcard #3: GM Kayden Troff (LV) vs GM Illya Nyzhnyk (STL) 0-1 Article

Wildcard #5: IM Georgi Orlov (SEA) vs GM Timur Gareyev (LV) 0-1 Article
Eliminated:

9th Place (79 Points): GM Jeffery Xiong (DAL) vs GM Enrico Sevillano (LV) 1-0 Article Elimination Article

10th Place (79 Points): GM Zviad Izoria (MAN) vs GM Maxim Dlugy (CON) 1/2-1/2 Article Elimination Article

11th Place (78 Points): IM Tom Bartell (PHI) vs GM Alex Stripunsky (NJ) 0-1 Article Elimination Article

12th Place (76 Points): FM Andy Lee (SF) vs FM Pedram Atoufi (ARZ) 0-1 Article Elimination Article

13th Place (71 Points): GM Timur Gareyev (LV) vs GM Rogelio Barcenilla (ARZ) 1/2-1/2 Article Elimination Article

14th Place (68 Points): NM Ilya Krasik (BOS) vs NM Brandon Jacobson (NJ) 1-0 Article Elimination Article

15th Place (66 Points): GM Daniel Naroditsky (SF) vs GM Wesley So (MIN) 0-1 Article Elimination Article

16th Place (65 Points): GM Illya Nyzhnyk (STL) vs GM Alex Lenderman (MAN) 1-0 Article Elimination Article

17th Place (53 Points): GM Conrad Holt (DAL) vs GM Illya Nyzhnyk (STL) 1-0 Article Elimination Article

18th Place (44 Points): GM Zviad Izoria (MAN) vs SM Mika Brattain (NE) 1-0 Article Elimination Article

19th Place (34 Points): NM Ilya Krasik (BOS) vs Dennis Li (CON) 1-0 Article Elimination Article

20th Place (32 Points): IM Kassa Korley (CAR) vs GM Alex Stripunsky (NJ) 1-0 Article Elimination Article