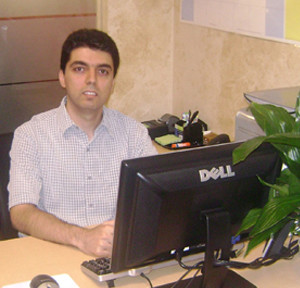 Another game with a fair disparity in rankings as the attractive Queen sacrifice caught the eye of a couple of the judges while others, noting it had been played before, weren't quite as impressed.
This is the ninth part in a series of articles which will count down to revealing what game was voted as the 2015 USCL Game of the Year. For more information on exactly how this process works and the prize information, please refer to: Game of the Year Contest
————————————————————————————————————————————————————————————————————–
12th Place: FM Andy Lee (SF) vs FM Pedram Atoufi (ARZ) 0-1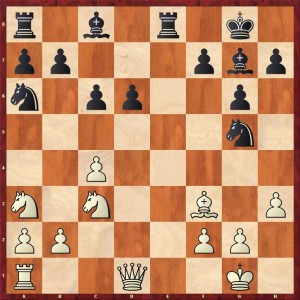 In a game with a parade of tactics from the Black side, 16… Bxh3! was one of several blows which ensured his interesting Queen sacrifice would pay off
FM Alex Barnett (2nd Place, 19 Points): Finally the King's Indian wins! Jesus Christ I was tired of seeing Black get smashed in this opening. 13… Nxg5 was good too … I thought he was gunna go Nxc3 and chill but NOPE he hit up the nasty. For all you novice players out there, THIS is how you should aspire to play — like the Black side in this game. Omg 16… Bxh3!!! 18… Ne4!! Nxg5, Bxh3, Ne4, boom boom BOOM! This game is a close second only by a tough choice.
FM Ron Young (2nd Place, 19 Points): I hope the italics and the accents come out, because if I can't say très élégant then words will have failed me, and I will have failed this game, and that would be a shame. To get to play a really good move, you usually need to have a plausible weak alternative, and so the possibility of 13… Nc3 may have enabled the reality of 13… Ng5. …c6 after Ndb5 was simply funny (we like to have fun here), 16… Bxh3 was another nice shot, and 18… Ne4 made it seem that it was all just meant to be.
NM Randy Bauer (9th Place, 12 Points): An example of a positional Queen exchange for similar material and a more harmonious position. 16. Na3 was likely too obliging, however, and White could make more of a fight of it with 16. Nxd6 or 16. Nd4.
IM Jan van de Mortel (11th Place, 10 Points): Not the first Queen sacrifice in this structure of the King's Indian Defence, nor the last. White briefly loses his bearings (with 15. Ndb5 to a3) and never gets another chance. A worthy addition to the repertoire of KID marvels.
FM Varun Krishnan (12th Place, 9 Points): 16… Bxh3 was a very nice tactic, right on the heels of a completely sound Queen sacrifice. A nice win, though White could have put up more resistance.
GM Eric Hansen (17th Place, 4 Points): Atoufi avenges an earlier defeat in this variation with some nice middlegame tactics. The moves pretty much play themselves so not the highest difficulty.
SM Craig Hilby (18th Place, 3 Points): I thought Pedram played a nice game; unfortunately, I think Andy just had an off day (it happens even to the best of us), and he put up very little resistance to Pedram the whole game. The thing I find most shocking is that Pedram had a game in the database with this Queen sac before, so I'm assuming Andy prepared for it. But two moves after they deviated from the aforementioned game, Andy blundered and was already basically lost.
Total Score of Lee vs Atoufi: (12th Place, 76 Points)
————————————————————————————————————————————————————————————————————–
Stay tuned for eleven more such articles as the field shrinks by one game almost every day to see which of the following games will be the 2015 Game of the Year!

Week 2: GM Zviad Izoria (MAN) vs GM Maxim Dlugy (CON) 1/2-1/2 Article

Week 3: GM Alejandro Ramirez (STL) vs GM Jeffery Xiong (DAL) 0-1 Article

Week 6: GM Jeffery Xiong (DAL) vs GM Enrico Sevillano (LV) 1-0 Article

Week 8: IM Danny Edelman (CON) vs GM Alex Stripunsky (NJ) 0-1 Article

Week 10: FM Elliott Liu (LV) vs FM Ali Morshedi (SD) 1-0 Article

Quarterfinals: GM Pascal Charbonneau (NY) vs GM Joel Benjamin (NJ) 1/2-1/2 Article

Semifinals: IM Ruifeng Li (DAL) vs GM Varuzhan Akobian (STL) 0-1 Article

Wildcard #1: IM Tom Bartell (PHI) vs GM Alex Stripunsky (NJ) 0-1 Article

Wildcard #2: IM Alexander Katz (NE) vs GM Giorgi Kacheishvili (MAN) 1-0 Article

Wildcard #3: GM Kayden Troff (LV) vs GM Illya Nyzhnyk (STL) 0-1 Article

Wildcard #5: IM Georgi Orlov (SEA) vs GM Timur Gareyev (LV) 0-1 Article
Eliminated:

12th Place (76 Points): FM Andy Lee (SF) vs FM Pedram Atoufi (ARZ) 0-1 Article Elimination Article

13th Place (71 Points): GM Timur Gareyev (LV) vs GM Rogelio Barcenilla (ARZ) 1/2-1/2 Article Elimination Article

14th Place (68 Points): NM Ilya Krasik (BOS) vs NM Brandon Jacobson (NJ) 1-0 Article Elimination Article

15th Place (66 Points): GM Daniel Naroditsky (SF) vs GM Wesley So (MIN) 0-1 Article Elimination Article

16th Place (65 Points): GM Illya Nyzhnyk (STL) vs GM Alex Lenderman (MAN) 1-0 Article Elimination Article

17th Place (53 Points): GM Conrad Holt (DAL) vs GM Illya Nyzhnyk (STL) 1-0 Article Elimination Article

18th Place (44 Points): GM Zviad Izoria (MAN) vs SM Mika Brattain (NE) 1-0 Article Elimination Article

19th Place (34 Points): NM Ilya Krasik (BOS) vs Dennis Li (CON) 1-0 Article Elimination Article

20th Place (32 Points): IM Kassa Korley (CAR) vs GM Alex Stripunsky (NJ) 1-0 Article Elimination Article