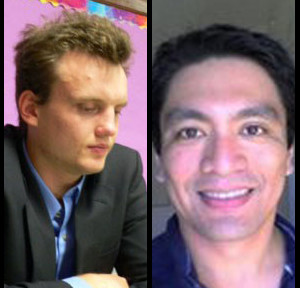 The game with by far the most variation in rankings, receiving two top rankings and three near bottom rankings, fittingly ends up near the middle. Drawn efforts are often a source of disagreement but rarely to such an extreme degree!
This is the eighth part in a series of articles which will count down to revealing what game was voted as the 2015 USCL Game of the Year. For more information on exactly how this process works and the prize information, please refer to: Game of the Year Contest
————————————————————————————————————————————————————————————————————–
13th Place: GM Timur Gareyev (LV) vs GM Rogelio Barcenilla (ARZ) 1/2-1/2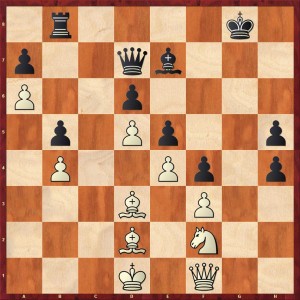 In a very creative battle from both sides, GM Gareyev uncorked the interesting 36. Bxf4!?, after which many complications ensued, and one of the more wild draws in recent memory occurred
IM Jan van de Mortel (1st Place, 20 Points): My favorite teen chess memories are of epic battles on the White side of a classic KID struggle like this one. I still have a soft spot for them. After the typical exchange sacrifice eliminating Black's most important attacker (26. Rxd7) I thought the game was in the bag for White. It might very well have been with a little more patience (instead of 34. h4), but then the audience would have been deprived of the mad complications that followed. The sheer epicness of the whole game forces me to rank it at the top.
FM Varun Krishnan (1st Place, 20 Points): The twists and turns this game experienced make this game, in my opinion, the best game of the year. Both players played a hand in this slugfest, and in the end, it is only fitting that the end result was a draw (though along the way, White missed many wins!) Still, for how complicated the position was, the game was surprisingly accurate, making it a fitting Game of the Year.
NM Randy Bauer (7th Place, 14 Points): I will readily confess I don't really know what was going on at many points in this game, but the complications are fascinating, and the willingness of the players to play to win to the bitter end is worthy of praise.
SM Craig Hilby (9th Place, 12 Points): In a fighting King's Indian, Timur quickly got an edge due to Rogelio's suspicious 10… h6? (f5 should be playable there), but Rogelio quickly got back into the game with the nice practical shot 25… Nxg2!. Timur lost the thread of the game (34. Qf1 targeting the b5 pawn instead of h4? should be good), and they entered mass complications where Timur still pushed for the win, but Rogelio defended well and the game was drawn.
FM Alex Barnett (19th Place, 2 Points): Idk anything about the KID so this could be theory until move 25 or whatever, but doesn't White's dark square Bishop belong on f2? like Be3-f2 and then Nxa7, but ok that didn't happen….this game had promise to get exciting after 25… Nxg2, but 26… Rxd7 good move preventing g4…then later on, the game was getting exciting again, but then fizzled into a perp. Meh, disappointing. This game doesn't do it for me. Likely correct and sound play, but this game teases me and fizzles too many times to be ranked highly.
FM Ron Young (19th Place, 2 Points): In trying to better serve USCL fans, I endeavored to find out whether "vicissitudinal" was the right adjectival form, or if "vicissitudinous" was in fact correct. The issue seems to be unsettled (and don't forget "vicissitudinarian" and "vicissitudinarious"). In any case, this game saw a lot of twists and turns, and it seemed that White did not quite organize his nominally more powerful army in the most efficacious way, so had to resort to desperate measures (38. Bxf4) to keep Black from finally taking charge. An entertaining game resulted, and if that sounds condescending, it is strictly unintentional. To me, entertainment need never apologize.
GM Eric Hansen (20th Place, 1 Point): A well played game by Gareyev but nothing unexpected. Seemed like White won the opening battle and took his time converting. Hard for me to rate it highly when Black is missing his light squared Bishop pretty early on.
Total Score of Gareyev vs Barcenilla: (13th Place, 71 Points)
————————————————————————————————————————————————————————————————————–
Stay tuned for twelve more such articles as the field shrinks by one game almost every day to see which of the following games will be the 2015 Game of the Year!

Week 2: GM Zviad Izoria (MAN) vs GM Maxim Dlugy (CON) 1/2-1/2 Article

Week 3: GM Alejandro Ramirez (STL) vs GM Jeffery Xiong (DAL) 0-1 Article

Week 6: GM Jeffery Xiong (DAL) vs GM Enrico Sevillano (LV) 1-0 Article

Week 8: IM Danny Edelman (CON) vs GM Alex Stripunsky (NJ) 0-1 Article

Week 10: FM Elliott Liu (LV) vs FM Ali Morshedi (SD) 1-0 Article

Quarterfinals: GM Pascal Charbonneau (NY) vs GM Joel Benjamin (NJ) 1/2-1/2 Article

Semifinals: IM Ruifeng Li (DAL) vs GM Varuzhan Akobian (STL) 0-1 Article

Wildcard #1: IM Tom Bartell (PHI) vs GM Alex Stripunsky (NJ) 0-1 Article

Wildcard #2: IM Alexander Katz (NE) vs GM Giorgi Kacheishvili (MAN) 1-0 Article

Wildcard #3: GM Kayden Troff (LV) vs GM Illya Nyzhnyk (STL) 0-1 Article

Wildcard #5: IM Georgi Orlov (SEA) vs GM Timur Gareyev (LV) 0-1 Article

Wildcard #6: FM Andy Lee (SF) vs FM Pedram Atoufi (ARZ) 0-1 Article
Eliminated:

13th Place (71 Points): GM Timur Gareyev (LV) vs GM Rogelio Barcenilla (ARZ) 1/2-1/2 Article Elimination Article

14th Place (68 Points): NM Ilya Krasik (BOS) vs NM Brandon Jacobson (NJ) 1-0 Article Elimination Article

15th Place (66 Points): GM Daniel Naroditsky (SF) vs GM Wesley So (MIN) 0-1 Article Elimination Article

16th Place (65 Points): GM Illya Nyzhnyk (STL) vs GM Alex Lenderman (MAN) 1-0 Article Elimination Article

17th Place (53 Points): GM Conrad Holt (DAL) vs GM Illya Nyzhnyk (STL) 1-0 Article Elimination Article

18th Place (44 Points): GM Zviad Izoria (MAN) vs SM Mika Brattain (NE) 1-0 Article Elimination Article

19th Place (34 Points): NM Ilya Krasik (BOS) vs Dennis Li (CON) 1-0 Article Elimination Article

20th Place (32 Points): IM Kassa Korley (CAR) vs GM Alex Stripunsky (NJ) 1-0 Article Elimination Article