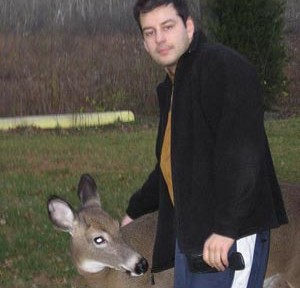 The only other Board Four game in the contest takes its leave, getting high marks for the victor's brave, attractive play but also seeming to be downgraded by the usual phenomenon that keeps Board Four games from winning frequently: sub-par resistance.
This is the seventh part in a series of articles which will count down to revealing what game was voted as the 2015 USCL Game of the Year. For more information on exactly how this process works and the prize information, please refer to: Game of the Year Contest
————————————————————————————————————————————————————————————————————–
14th Place: NM Ilya Krasik (BOS) vs NM Brandon Jacobson (NJ) 1-0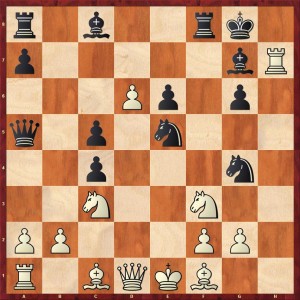 In another brutal victory by NM Krasik, 15. Rxg7+! paved the way for a dominating win
IM Jan van de Mortel (4th Place, 17 Points): At the very least, this is a very nice piece of home preparation on White's part. The exchange sacrifice (15. Rxg7) is one for the ages and totally crushing. Except for the missed mate-in-two on move 26 a highly compelling dusting off.
FM Alex Barnett (4th Place, 17 Points): This game is sexy. Prolly theory until at least move 11 though. Oh god 15. Rxg7 … the USCL exchange sac theme put to good use. That zig zag maneuver with the Queen though!!!
FM Varun Krishnan (8th Place, 13 Points): A very well-played attack! White's Rook acted as a 'kamikaze Rook', ultimately ruining Black's Kingside and setting the stage for the both tactical and positional domination ahead.
FM Ron Young (13th Place, 8 Points): Hard to believe that the guy sweetly petting the baby deer in his USCL photo also played this game. But I guess that's just "the game before the game". Anyway, it's not that unusual. Mike Tyson keeps pigeons, George Foreman cooks, Deacon Jones sang, and I could go on if not for a scripting error that keeps the other examples from loading. Too bad, because #23 was going to amaze me. Anyway, why so low? …Kf8 made it a bit too easy. Also, if one wants to be a hard-ass, there was that missed mate in two. So why so high? There were some pretty cool moves played.
SM Craig Hilby (15th Place, 6 Points): White came up with a novelty with 12. Nxb5, although it seems to me a dubious one, as Black should stand clearly better after 12… Nc6 and Ncxe5. Instead, Black played right into White's hands with Qa5+?, after which the position is already very dangerous. Black then misplayed the defense greatly, giving Ilya a winning attack, which he very skillfully (and patiently) converted into a win. By the way, the missed mate in two doesn't really mean too much IMO because the win was never really in doubt.
NM Randy Bauer (16th Place, 5 Points): White's shot with 14. Rxh7 is interesting and enterprising, but had some fairly evident alternate defenses (including just taking the Rook) that would work out better than the game. After 18. Ne4 White gets all his pieces/pawns to good squares and rolls along without much trouble.
GM Eric Hansen (19th Place, 2 Points): A notoriously suspicious line for Black in the Grunfeld. Krasik crashes in like others before him. Props again to Krasik for converting a good opening position which is not something to take for granted.
Total Score of Krasik vs Jacobson: (14th Place, 68 Points)
————————————————————————————————————————————————————————————————————–
Stay tuned for thirteen more such articles as the field shrinks by one game almost every day to see which of the following games will be the 2015 Game of the Year!

Week 1: GM Timur Gareyev (LV) vs GM Rogelio Barcenilla (ARZ) 1/2-1/2 Article

Week 2: GM Zviad Izoria (MAN) vs GM Maxim Dlugy (CON) 1/2-1/2 Article

Week 3: GM Alejandro Ramirez (STL) vs GM Jeffery Xiong (DAL) 0-1 Article

Week 6: GM Jeffery Xiong (DAL) vs GM Enrico Sevillano (LV) 1-0 Article

Week 8: IM Danny Edelman (CON) vs GM Alex Stripunsky (NJ) 0-1 Article

Week 10: FM Elliott Liu (LV) vs FM Ali Morshedi (SD) 1-0 Article

Quarterfinals: GM Pascal Charbonneau (NY) vs GM Joel Benjamin (NJ) 1/2-1/2 Article

Semifinals: IM Ruifeng Li (DAL) vs GM Varuzhan Akobian (STL) 0-1 Article

Wildcard #1: IM Tom Bartell (PHI) vs GM Alex Stripunsky (NJ) 0-1 Article

Wildcard #2: IM Alexander Katz (NE) vs GM Giorgi Kacheishvili (MAN) 1-0 Article

Wildcard #3: GM Kayden Troff (LV) vs GM Illya Nyzhnyk (STL) 0-1 Article

Wildcard #5: IM Georgi Orlov (SEA) vs GM Timur Gareyev (LV) 0-1 Article

Wildcard #6: FM Andy Lee (SF) vs FM Pedram Atoufi (ARZ) 0-1 Article
Eliminated:

14th Place (68 Points): NM Ilya Krasik (BOS) vs NM Brandon Jacobson (NJ) 1-0 Article Elimination Article

15th Place (66 Points): GM Daniel Naroditsky (SF) vs GM Wesley So (MIN) 0-1 Article Elimination Article

16th Place (65 Points): GM Illya Nyzhnyk (STL) vs GM Alex Lenderman (MAN) 1-0 Article Elimination Article

17th Place (53 Points): GM Conrad Holt (DAL) vs GM Illya Nyzhnyk (STL) 1-0 Article Elimination Article

18th Place (44 Points): GM Zviad Izoria (MAN) vs SM Mika Brattain (NE) 1-0 Article Elimination Article

19th Place (34 Points): NM Ilya Krasik (BOS) vs Dennis Li (CON) 1-0 Article Elimination Article

20th Place (32 Points): IM Kassa Korley (CAR) vs GM Alex Stripunsky (NJ) 1-0 Article Elimination Article