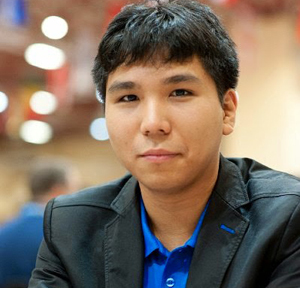 In probably the highest class game in the contest, the judges praised the great play by the victor but also seemed to feel that it might have been a bit too easy for a player of his incredible caliber.
This is the sixth part in a series of articles which will count down to revealing what game was voted as the 2015 USCL Game of the Year. For more information on exactly how this process works and the prize information, please refer to: Game of the Year Contest
————————————————————————————————————————————————————————————————————–
15th Place: GM Daniel Naroditsky (SF) vs GM Wesley So (MIN) 0-1
GM So played the strong exchange sacrifice 20… Nb3!, scoring a flawless victory over a very strong GM
GM Eric Hansen (3rd Place, 18 Points): Hard for me to judge Wesley's games properly because his chess is so good you almost expect this. A really powerful win as Black against a very strong GM. A gem from one of the best French defence players in the world.
SM Craig Hilby (7th Place, 14 Points): Although Wesley played a very nice game, ultimately I think it was more Daniel's mistakes rather than Wesley's strength that won Black the game. 16. Nd4? (instead of forcing Black's King to the center with the natural 16. Bxd7+) was very strange, after which there was little compensation for the Pawn. Wesley's exchange sac was very impressive though, knowing that his pieces would dominate the position afterwards.
FM Alex Barnett (12th Place, 9 Points): I mean this is obviously a high quality and well played game by Black. But it looks to me like with correct play, as we see here, Black is just up a Pawn for nothing after Nxd4. Oh and of course another exchange sac. Gg, but not exciting enough to win.
IM Jan van de Mortel (13th Place, 8 Points): A typical Pawn sacrifice in the French goes awry surprisingly quick for White. A few odd decisions might have been the result of underestimating Black's positional exchange sacrifice which as it turns out renders White powerless. Faultless effort by Black.
NM Randy Bauer (13th Place, 8 Points): A solid performance by Black in rebuffing the thematic French Pawn sacrifice. The similarly thematic exchange sacrifice allowed Black to pretty readily mop up. I'd say White's play, which never really got off the ground, was a bit pedestrian.
FM Ron Young (14th Place, 7 Points): "When I play the French Defence I don't try and grab the Pawn d4", said Viktor Korchnoi, reportedly. So who will? So will! So Who will? Yes, I heard you the first time. And so on. Korchonoi did actually play the White side in a spiritually ancestrous game vs. Udovcic, who died in 1984 before he ever had the chance to sign my copy of "Yugoslav Chess Triumphs" (I did get Gligoric, Ljubojevic and Ostojic, though). As for this game, it has a lot of competition in the "exchange sac by Black" category. I was more taken by a couple of others.
FM Varun Krishnan (19th Place, 2 Points): Overall, I felt this was a bit too ordinary of a win to be ranked higher – So won a pawn, and Naroditsky didn't conduct the attack right (16. Bxd7 might have been better), allowing So to execute.
Total Score of Naroditsky vs So: (15th Place, 66 Points)
————————————————————————————————————————————————————————————————————–
Stay tuned for fourteen more such articles as the field shrinks by one game almost every day to see which of the following games will be the 2015 Game of the Year!

Week 1: GM Timur Gareyev (LV) vs GM Rogelio Barcenilla (ARZ) 1/2-1/2 Article

Week 2: GM Zviad Izoria (MAN) vs GM Maxim Dlugy (CON) 1/2-1/2 Article

Week 3: GM Alejandro Ramirez (STL) vs GM Jeffery Xiong (DAL) 0-1 Article

Week 5: NM Ilya Krasik (BOS) vs NM Brandon Jacobson (NJ) 1-0 Article

Week 6: GM Jeffery Xiong (DAL) vs GM Enrico Sevillano (LV) 1-0 Article

Week 8: IM Danny Edelman (CON) vs GM Alex Stripunsky (NJ) 0-1 Article

Week 10: FM Elliott Liu (LV) vs FM Ali Morshedi (SD) 1-0 Article

Quarterfinals: GM Pascal Charbonneau (NY) vs GM Joel Benjamin (NJ) 1/2-1/2 Article

Semifinals: IM Ruifeng Li (DAL) vs GM Varuzhan Akobian (STL) 0-1 Article

Wildcard #1: IM Tom Bartell (PHI) vs GM Alex Stripunsky (NJ) 0-1 Article

Wildcard #2: IM Alexander Katz (NE) vs GM Giorgi Kacheishvili (MAN) 1-0 Article

Wildcard #3: GM Kayden Troff (LV) vs GM Illya Nyzhnyk (STL) 0-1 Article

Wildcard #5: IM Georgi Orlov (SEA) vs GM Timur Gareyev (LV) 0-1 Article

Wildcard #6: FM Andy Lee (SF) vs FM Pedram Atoufi (ARZ) 0-1 Article
Eliminated:

15th Place (66 Points): GM Daniel Naroditsky (SF) vs GM Wesley So (MIN) 0-1 Article Elimination Article

16th Place (65 Points): GM Illya Nyzhnyk (STL) vs GM Alex Lenderman (MAN) 1-0 Article Elimination Article

17th Place (53 Points): GM Conrad Holt (DAL) vs GM Illya Nyzhnyk (STL) 1-0 Article Elimination Article

18th Place (44 Points): GM Zviad Izoria (MAN) vs SM Mika Brattain (NE) 1-0 Article Elimination Article

19th Place (34 Points): NM Ilya Krasik (BOS) vs Dennis Li (CON) 1-0 Article Elimination Article

20th Place (32 Points): IM Kassa Korley (CAR) vs GM Alex Stripunsky (NJ) 1-0 Article Elimination Article