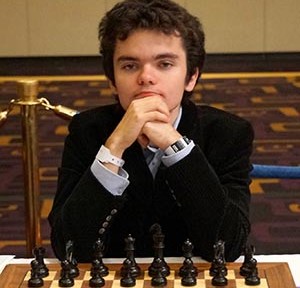 From the most important of matches, GM Nyzhnyk's nice victory over the strong GM Lenderman received a wide variety of votes from the judges.
This is the fifth part in a series of articles which will count down to revealing what game was voted as the 2015 USCL Game of the Year. For more information on exactly how this process works and the prize information, please refer to: Game of the Year Contest
————————————————————————————————————————————————————————————————————–
16th Place: GM Illya Nyzhnyk (STL) vs GM Alex Lenderman (MAN) 1-0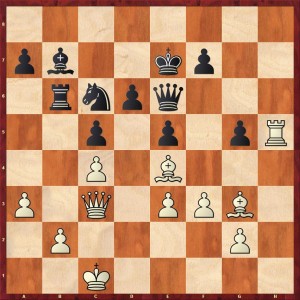 In an ugly position, GM Lenderman found a very interesting practical chance in 25… Na5!?, but GM Nyzhnyk navigated the complications well, scoring a well deserved victory
SM Craig Hilby (4th Place, 17 Points): Illya responded nicely to Alex's rare 7… c5, presumably to take the game out of theory. Illya showed he knew where the pieces should be placed, and got a nice advantage. Alex fought back nicely with the attempt 25… Na5!, but Illya kept control with precise calculation and won the game shortly thereafter.
IM Jan van de Mortel (6th Place, 15 Points): Dynamic opening play by Black leads to a very double-edged position when the first smoke clears after about 17 moves. The manner in which White then highlights Black's deficits is highly impressive. Can't blame Black for lack of trying to muddy the waters so a high ranking is well deserved.
FM Alex Barnett (11th Place, 10 Points): At first I was going to flame Black for going 14… g5, like I flamed the other dude who went Bf3. But after replaying through the game I realized that g5 is forced! Because Nh5 is coming and it's a killer. Brutal bro, tough to see that you don't have time for Rg8 once Nf4 comes … I guess Black is basically lost after 14. Nf4? Next time gotta play Rg8 instead of Ba8 I guess, because after g5 and Nh5, Black is strategically busted, and White converted nicely. Well played by White, but not exciting enough to win GOTY.
GM Eric Hansen (14th Place, 7 Points): St. Louis almost repeated as Champions with a great finish by Nyzhnyk. An example of two Bishops without weaknesses posing long term problems. Lenderman came up with an interesting way to steer the game away, but it was not enough.
FM Varun Krishnan (14th Place, 7 Points): This was a nice positional effort by Nyzhnyk, who obtained a clear edge out of the opening, and did not relinquish it despite cool attempts at counterplay from Black (such as 25… Na5!?). If these shots had actually worked, this game might have been ranked higher!
NM Randy Bauer (15th Place, 6 Points): Black played positional hari-kari in this game with 14… g5. The resulting incursion on the h-file was no surprise. Meanwhile, Black's attempts at b-file counterplay (such as with the eventually wasted move 13… Ba8 to be followed later by 24… Bb7 just gave White time to organize his central and h-file play.
FM Ron Young (18th Place, 3 Points): Al Horowitz ("the scrivener of chess tournaments" who never took off his overcoat, even in summer, according to Gay Talese in "The Kingdom and the Power") wrote of the Nimzo-Indian that it was rooted in fallacy and opined that someday a way would be found to give White more than his due initiative. He did not live to see it, alas, but the revival of 4. Qc2 may just be the thing he prophesied. I generally don't presume to read the thoughts of other players, especially my betters, but I am so sure in this case I'll make an exception–(25… Na5): "Well, if it doesn't work, at least this won't be Game of the Week". And on that tragic note, I'll step away.
Total Score of Nyzhnyk vs Lenderman: (16th Place, 65 Points)
————————————————————————————————————————————————————————————————————–
Stay tuned for fifteen more such articles as the field shrinks by one game almost every day to see which of the following games will be the 2015 Game of the Year!

Week 1: GM Timur Gareyev (LV) vs GM Rogelio Barcenilla (ARZ) 1/2-1/2 Article

Week 2: GM Zviad Izoria (MAN) vs GM Maxim Dlugy (CON) 1/2-1/2 Article

Week 3: GM Alejandro Ramirez (STL) vs GM Jeffery Xiong (DAL) 0-1 Article

Week 5: NM Ilya Krasik (BOS) vs NM Brandon Jacobson (NJ) 1-0 Article

Week 6: GM Jeffery Xiong (DAL) vs GM Enrico Sevillano (LV) 1-0 Article

Week 7: GM Daniel Naroditsky (SF) vs GM Wesley So (MIN) 0-1 Article

Week 8: IM Danny Edelman (CON) vs GM Alex Stripunsky (NJ) 0-1 Article

Week 10: FM Elliott Liu (LV) vs FM Ali Morshedi (SD) 1-0 Article

Quarterfinals: GM Pascal Charbonneau (NY) vs GM Joel Benjamin (NJ) 1/2-1/2 Article

Semifinals: IM Ruifeng Li (DAL) vs GM Varuzhan Akobian (STL) 0-1 Article

Wildcard #1: IM Tom Bartell (PHI) vs GM Alex Stripunsky (NJ) 0-1 Article

Wildcard #2: IM Alexander Katz (NE) vs GM Giorgi Kacheishvili (MAN) 1-0 Article

Wildcard #3: GM Kayden Troff (LV) vs GM Illya Nyzhnyk (STL) 0-1 Article

Wildcard #5: IM Georgi Orlov (SEA) vs GM Timur Gareyev (LV) 0-1 Article

Wildcard #6: FM Andy Lee (SF) vs FM Pedram Atoufi (ARZ) 0-1 Article
Eliminated:

16th Place (65 Points): GM Illya Nyzhnyk (STL) vs GM Alex Lenderman (MAN) 1-0 Article Elimination Article

17th Place (53 Points): GM Conrad Holt (DAL) vs GM Illya Nyzhnyk (STL) 1-0 Article Elimination Article

18th Place (44 Points): GM Zviad Izoria (MAN) vs SM Mika Brattain (NE) 1-0 Article Elimination Article

19th Place (34 Points): NM Ilya Krasik (BOS) vs Dennis Li (CON) 1-0 Article Elimination Article

20th Place (32 Points): IM Kassa Korley (CAR) vs GM Alex Stripunsky (NJ) 1-0 Article Elimination Article