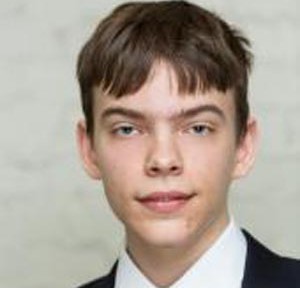 The first of the six Wildcards to be eliminated, a nice maneuvering effort by GM Holt seemed to divide the judges as some were impressed by the maneuvering, others bored with it.
This is the fourth part in a series of articles which will count down to revealing what game was voted as the 2015 USCL Game of the Year. For more information on exactly how this process works and the prize information, please refer to: Game of the Year Contest
————————————————————————————————————————————————————————————————————–
17th Place: GM Conrad Holt (DAL) vs GM Illya Nyzhnyk (STL) 1-0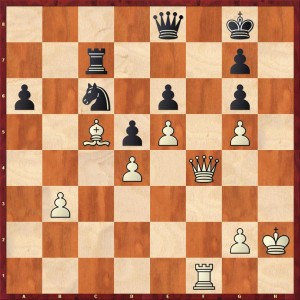 Nursing a small edge for a long time, GM Holt finally broke through with 52. Qf8+!, liquidating into a winning endgame
GM Eric Hansen (7th Place, 14 Points): I've always considered Conrad an extremely talented player. We've all seen him demolish people in his pet lines. Here he shows his other side and outplays Ilya from a pretty balanced and technical middlegame.
IM Jan van de Mortel (8th Place, 13 Points): When a "bad" Bishop isn't so bad and a Knight laments life. Superficially, Black appears to be coming out of the opening just fine. Open c-file, "good" Bishop, yet without being able to pinpoint where exactly the tide turned it is White in total control by move 31. Personally, I would have preferred to see the continuation 35. Qf3 Qe8 36. Qc3 with further tightening of the screws, but Black was firmly on the hook and never stood a chance.
FM Varun Krishnan (11th Place, 10 Points): In this awesome positional grind, one thing to take note of is how Conrad uses the whole board to his advantage, from the Pawn on a6 to Kingside threats. The result is that Black's position falls apart.
SM Craig Hilby (13th Place, 8 Points): The game was decided more on Illya's huge mistake 24… Ra4? rather than anything too special that Conrad did. I liked Black's position from moves 20-23, but after 24… Ra4? Black never sees a position close to equality again. Conrad made some strange decisions later in the game, but always kept the advantage and won with it.
FM Alex Barnett (16th Place, 5 Points): I mean this isn't a poor quality game objectively so I can't exactly flame, but ughhhhh theory until move like 18 right? Ok let me start my analysis at move 18 then. The issue is whether Black is liable for allowing White to play a6. Black breached his duty to prevent White from playing a6 because the burden was low, all Black had to do was spend one tempo to play a6 himself, yet the probability of losing the game was increased by the weakened Queenside. Therefore allowing White to play a6 was an unreasonable risk. Now we go to causation. The game would not have turned out the way it did, but-for Black allowing White to play a6, weakening Black's Queenside, and eventually allowing White to plow through after lengthy piece shuffling and maneuvering. Therefore, causation in fact is satisfied. However, unless this game took place in a Polemis jurisdiction, allowing White to play a6 was not the proximate cause of Black losing the game, because at that moment, it was not foreseeable that White would win the way he did. Therefore, there is no liability for allowing White to play a6.
NM Randy Bauer (19th Place, 2 Points): There is a lot of 'cat and mouse' play going on here, and eventually Black falls asleep. Maybe it lulled me to sleep as well.
FM Ron Young (20th Place, 1 Point): This one took me the longest to describe and judge because I knew White's play reminded me of something, but what? Finally, it came to me. After establishing a nagging edge, White acts like a driver circling around an area, waiting for a parking space to open. When one at last appears, at move 52, White moves in and grabs it and that was more or less that. Well done. Still, I don't expect to rank it very high because after all, what's so amazing about parking a car?
Total Score of Holt vs Nyzhnyk: (17th Place, 53 Points)
————————————————————————————————————————————————————————————————————–
Stay tuned for sixteen more such articles as the field shrinks by one game almost every day to see which of the following games will be the 2015 Game of the Year!

Week 1: GM Timur Gareyev (LV) vs GM Rogelio Barcenilla (ARZ) 1/2-1/2 Article

Week 2: GM Zviad Izoria (MAN) vs GM Maxim Dlugy (CON) 1/2-1/2 Article

Week 3: GM Alejandro Ramirez (STL) vs GM Jeffery Xiong (DAL) 0-1 Article

Week 5: NM Ilya Krasik (BOS) vs NM Brandon Jacobson (NJ) 1-0 Article

Week 6: GM Jeffery Xiong (DAL) vs GM Enrico Sevillano (LV) 1-0 Article

Week 7: GM Daniel Naroditsky (SF) vs GM Wesley So (MIN) 0-1 Article

Week 8: IM Danny Edelman (CON) vs GM Alex Stripunsky (NJ) 0-1 Article

Week 10: FM Elliott Liu (LV) vs FM Ali Morshedi (SD) 1-0 Article

Quarterfinals: GM Pascal Charbonneau (NY) vs GM Joel Benjamin (NJ) 1/2-1/2 Article

Semifinals: IM Ruifeng Li (DAL) vs GM Varuzhan Akobian (STL) 0-1 Article

Championship: GM Illya Nyzhnyk (STL) vs GM Alex Lenderman (MAN) 1-0 Article

Wildcard #1: IM Tom Bartell (PHI) vs GM Alex Stripunsky (NJ) 0-1 Article

Wildcard #2: IM Alexander Katz (NE) vs GM Giorgi Kacheishvili (MAN) 1-0 Article

Wildcard #3: GM Kayden Troff (LV) vs GM Illya Nyzhnyk (STL) 0-1 Article

Wildcard #5: IM Georgi Orlov (SEA) vs GM Timur Gareyev (LV) 0-1 Article

Wildcard #6: FM Andy Lee (SF) vs FM Pedram Atoufi (ARZ) 0-1 Article
Eliminated:

17th Place (53 Points): GM Conrad Holt (DAL) vs GM Illya Nyzhnyk (STL) 1-0 Article Elimination Article

18th Place (44 Points): GM Zviad Izoria (MAN) vs SM Mika Brattain (NE) 1-0 Article Elimination Article

19th Place (34 Points): NM Ilya Krasik (BOS) vs Dennis Li (CON) 1-0 Article Elimination Article

20th Place (32 Points): IM Kassa Korley (CAR) vs GM Alex Stripunsky (NJ) 1-0 Article Elimination Article