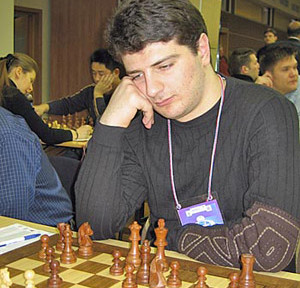 This game managed to overcome the reputation of the notoriously boring London System to win GOTW but unfortunately that reputation seemed to follow it into GOTY, taking an early exit from the contest.
This is the third part in a series of articles which will count down to revealing what game was voted as the 2015 USCL Game of the Year. For more information on exactly how this process works and the prize information, please refer to: Game of the Year Contest
————————————————————————————————————————————————————————————————————–
18th Place: GM Zviad Izoria (MAN) vs SM Mika Brattain (NE) 1-0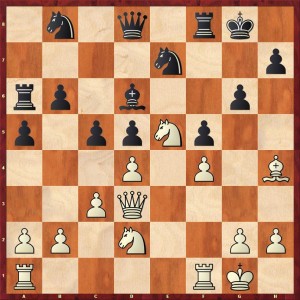 GM Izoria (MAN) scored a nice victory, aided by the unusual tactic 19. Nc6!
SM Craig Hilby (11th Place, 10 Points): Considering the opening choice, the game actually turned out to be decently interesting. Mika's mistake of 13… Ba6 is actually very instructive, because in this structure the trade is, counter intuitively, good for White, because the Bishop on d3 actually has very little potential, and the absence of the b7 Bishop makes the e3-e4 break easy for White. Indeed, Zviad quickly played e4 and after the decisive mistake of 16… f5 Black never saw daylight again. Despite Zviad's nice play, I think there was a lack of a wow factor, and little resistance put up by Black.
GM Eric Hansen (12th Place, 9 Points): Izoria took a page out of Kamsky's. Outplays his younger opponent in an instructive middlegame.
FM Alex Barnett (14th Place, 7 Points): This game is whatever. But IMO, the a5 and Ba6 thing sucks in this line. Black gets nothing on the Queenside, and White just has his way with you whenever he wants when you do the a5 Ba6 thing. See Carlsen-Yu Yangyi playoff game from Qatar this year. Idk what Black should do instead though because I'm not really a chess person at the moment, but instead of a5 Ba6 I would prolly try to go c4 b5 b4 and try to get something going.
IM Jan van de Mortel (16th Place, 5 Points): Unfortunately, I have played a few too many London Systems to get excited about this game. Although Black's treatment of the "Old-Men Opening", as my father used to call it, isn't that bad, there are several more promising ways of tackling it and in the end White merely takes what is being given. That said, it is another perfect example of the London's virtue: the old man strikes when you least expect it.
FM Varun Krishnan (16th Place, 5 Points): 19. Nc6 is a really cool shot – it's amazing how powerless Black's Knights are! After this, White was clearly winning, but Izoria did conclude with a nice attack.
FM Ron Young (16th Place, 5 Points): Black drifts into a passive Stonewall. How to avoid? My thought is that when White plays 7. Bg3, Black should play takes, takes back, Qd6; playing for an …e5, without having yet committed King to Kingside. But that's a chess thing, and I want to talk about æsthetics. From that standpoint, 19. Nc6 gets high marks, but the degree of difficulty seems rather low, and I don't think the aggregate lifts White onto the podium.
NM Randy Bauer (18th Place, 3 Points): Black's opening play was very obliging. I look at the position after 18. Qd3 and the word for Black that comes to mind is 'yuck'. The rest has multiple paths to victory for White.
Total Score of Izoria vs Brattain: (18th Place, 44 Points)
————————————————————————————————————————————————————————————————————–
Stay tuned for seventeen more such articles as the field shrinks by one game almost every day to see which of the following games will be the 2015 Game of the Year!

Week 1: GM Timur Gareyev (LV) vs GM Rogelio Barcenilla (ARZ) 1/2-1/2 Article

Week 2: GM Zviad Izoria (MAN) vs GM Maxim Dlugy (CON) 1/2-1/2 Article

Week 3: GM Alejandro Ramirez (STL) vs GM Jeffery Xiong (DAL) 0-1 Article

Week 5: NM Ilya Krasik (BOS) vs NM Brandon Jacobson (NJ) 1-0 Article

Week 6: GM Jeffery Xiong (DAL) vs GM Enrico Sevillano (LV) 1-0 Article

Week 7: GM Daniel Naroditsky (SF) vs GM Wesley So (MIN) 0-1 Article

Week 8: IM Danny Edelman (CON) vs GM Alex Stripunsky (NJ) 0-1 Article

Week 10: FM Elliott Liu (LV) vs FM Ali Morshedi (SD) 1-0 Article

Quarterfinals: GM Pascal Charbonneau (NY) vs GM Joel Benjamin (NJ) 1/2-1/2 Article

Semifinals: IM Ruifeng Li (DAL) vs GM Varuzhan Akobian (STL) 0-1 Article

Championship: GM Illya Nyzhnyk (STL) vs GM Alex Lenderman (MAN) 1-0 Article

Wildcard #1: IM Tom Bartell (PHI) vs GM Alex Stripunsky (NJ) 0-1 Article

Wildcard #2: IM Alexander Katz (NE) vs GM Giorgi Kacheishvili (MAN) 1-0 Article

Wildcard #3: GM Kayden Troff (LV) vs GM Illya Nyzhnyk (STL) 0-1 Article

Wildcard #4: GM Conrad Holt (DAL) vs GM Illya Nyzhnyk (STL) 1-0 Article

Wildcard #5: IM Georgi Orlov (SEA) vs GM Timur Gareyev (LV) 0-1 Article

Wildcard #6: FM Andy Lee (SF) vs FM Pedram Atoufi (ARZ) 0-1 Article
Eliminated:

18th Place (44 Points): GM Zviad Izoria (MAN) vs SM Mika Brattain (NE) 1-0 Article Elimination Article

19th Place (34 Points): NM Ilya Krasik (BOS) vs Dennis Li (CON) 1-0 Article Elimination Article

20th Place (32 Points): IM Kassa Korley (CAR) vs GM Alex Stripunsky (NJ) 1-0 Article Elimination Article