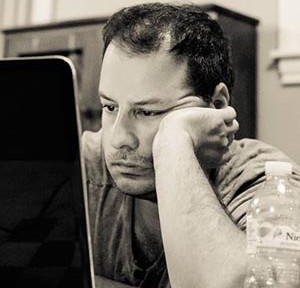 One of only two Board Four games in the contest (both with the same victor!) takes its leave early on as the judges applauded the nice attacking effort but felt the subpar defense was an issue.
This is the second part in a series of articles which will count down to revealing what game was voted as the 2015 USCL Game of the Year. For more information on exactly how this process works and the prize information, please refer to: Game of the Year Contest
————————————————————————————————————————————————————————————————————–
19th Place: NM Ilya Krasik (BOS) vs Dennis Li (CON) 1-0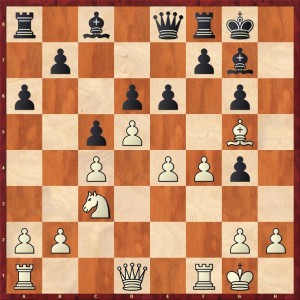 In an interesting effort, NM Krasik complicated things nicely with 16. e5!? winning a brutal game
GM Eric Hansen (10th Place, 11 Points): A poor opening by Black and a powerful attack by White. Krasik correctly evaluated the position after 19. Qh4 and didn't miss anything afterwards. A thematic example of crashing in on the dark squares in the Benoni.
FM Ron Young (10th Place, 11 Points): I was trying to write this up the night before the night I actually did, but when I kept writing "Kramnik" I decided I'd better wait till I'd had some rest. But that's understandable, no? I suppose the two Krasik games will have to compete against each other in the minds of the judges. As a previous critic has observed, 28. Rxf6 near the end is so crude and blunt it's a shame it's actually the best move. But a lot of subtlety was necessary to produce the crowning crudity.
FM Alex Barnett (15th Place, 6 Points): The 13… Neg4 plan looks suspicious to me, but its prolly still theory lol. But Black was just never in this game…White just wiped him off the board. Idk what Black coulda done diff, but this game was just brutal.
IM Jan van de Mortel (18th Place, 3 Points): White's standard attacking schemes soon bring Black under a dangerous assault, but the inaccuracies in defence prevent a high ranking for GOTY.
FM Varun Krishnan (20th Place, 1 Point): Unfortunately, White's attack consists of largely ordinary moves, while Black's defense was definitely subpar – thus, this game isn't ranked higher.
SM Craig Hilby (20th Place, 1 Point): Black played without a clear idea of what to do from the opening (9… e6 should be played). Ilya got a nice position but suddenly decided to be fancy starting with 14. Nxg4? and 16. e5?! From there, I thought it was a little funny because Black was reluctant to give up material when he should have, and White refused to cash in materially when he should have. Black ended up getting mated because holding on too greedily to material was the worse of the two.
NM Randy Bauer (20th Place, 1 Point): Maybe Black can get away with a move like 10… h5, but it is very committal and White seemed to end up with all the play on that side of the board.
Total Score of Krasik vs Li: (19th Place, 34 Points)
————————————————————————————————————————————————————————————————————–
Stay tuned for eighteen more such articles as the field shrinks by one game almost every day to see which of the following games will be the 2015 Game of the Year!

Week 1: GM Timur Gareyev (LV) vs GM Rogelio Barcenilla (ARZ) 1/2-1/2 Article

Week 2: GM Zviad Izoria (MAN) vs GM Maxim Dlugy (CON) 1/2-1/2 Article

Week 3: GM Alejandro Ramirez (STL) vs GM Jeffery Xiong (DAL) 0-1 Article

Week 5: NM Ilya Krasik (BOS) vs NM Brandon Jacobson (NJ) 1-0 Article

Week 6: GM Jeffery Xiong (DAL) vs GM Enrico Sevillano (LV) 1-0 Article

Week 7: GM Daniel Naroditsky (SF) vs GM Wesley So (MIN) 0-1 Article

Week 8: IM Danny Edelman (CON) vs GM Alex Stripunsky (NJ) 0-1 Article

Week 9: GM Zviad Izoria (MAN) vs SM Mika Brattain (NE) 1-0 Article

Week 10: FM Elliott Liu (LV) vs FM Ali Morshedi (SD) 1-0 Article

Quarterfinals: GM Pascal Charbonneau (NY) vs GM Joel Benjamin (NJ) 1/2-1/2 Article

Semifinals: IM Ruifeng Li (DAL) vs GM Varuzhan Akobian (STL) 0-1 Article

Championship: GM Illya Nyzhnyk (STL) vs GM Alex Lenderman (MAN) 1-0 Article

Wildcard #1: IM Tom Bartell (PHI) vs GM Alex Stripunsky (NJ) 0-1 Article

Wildcard #2: IM Alexander Katz (NE) vs GM Giorgi Kacheishvili (MAN) 1-0 Article

Wildcard #3: GM Kayden Troff (LV) vs GM Illya Nyzhnyk (STL) 0-1 Article

Wildcard #4: GM Conrad Holt (DAL) vs GM Illya Nyzhnyk (STL) 1-0 Article

Wildcard #5: IM Georgi Orlov (SEA) vs GM Timur Gareyev (LV) 0-1 Article

Wildcard #6: FM Andy Lee (SF) vs FM Pedram Atoufi (ARZ) 0-1 Article
Eliminated:

19th Place (34 Points): NM Ilya Krasik (BOS) vs Dennis Li (CON) 1-0 Article Elimination Article

20th Place (32 Points): IM Kassa Korley (CAR) vs GM Alex Stripunsky (NJ) 1-0 Article Elimination Article