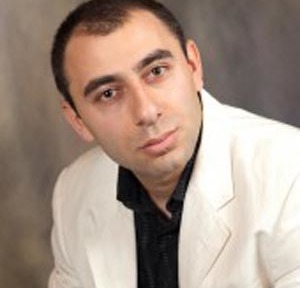 GM Akobian was instrumental to St. Louis's first Championship last year, and this big Semifinal win with the Black pieces is a very good indication that he is aiming for a repeat performance, winning him the best game prize from the Semifinals.
1st Place: IM Ruifeng Li (DAL) vs GM Varuzhan Akobian (STL) 0-1
In a spectacular endgame, GM Akobian found a fantastic tactical idea with 26… Rxf2!, eventually scoring a huge win for his team
FM Jason Doss (1st Place, 3 Points): I really liked this game a lot. Akobian makes a nice positional Pawn sac that keeps constant pressure on Li's position. White's pieces were practically anemic while they desperately tried to hold the Pawn. Practically speaking an excellent decision – it would be extremely difficult in a game-time situation to deal with Black's constant probing and piece activity.
FM Eugene Yanayt (1st Place, 3 Points): Very impressive performance by Var, winning smoothly with Black with perfect play. I especially liked the 26… Rxf2 and 27… Rc8 idea.
IM Jake Kleiman (2nd Place, 2 Points): Earlier in the USCL we saw Black get crushed in this line. However, Akobian was able to achieve dynamic imbalance of two Bishops vs Knight + Bishop + Pawn and did a very nice job of outplaying his opponent.
Total score of Li vs Akobian: 8 Points
———————————————————————————————————————————————————————————————————-
2nd Place: GM Alex Lenderman (MAN) vs GM Mark Paragua (NY) 1-0
Taking advantage of his opponent's aggressive opening play, GM Lenderman continued with 13. e4!, gaining a huge initiative that eventually transformed into a material edge which carried the day
IM Jake Kleiman (1st Place, 3 Points): For me, this was the most entertaining game of the bunch. It's not so often that White, in a Dutch, can prevent Black from castling Kingside. After that Lenderman converted his advantage, slowly but surely.
FM Jason Doss (2nd Place, 2 Points): This game was a bit painful to judge. Lenderman plays pretty excellent through-out the opening and early middle-game. His 13. e4! break kept Black's King stranded in the center with constant pressure. I really appreciate Paragua's resilience with the g5 pawn sac to get castled, and annoying e-pawn that kept White at bay. The painful part was how slowly Lenderman nursed his edge while possibly throwing it away at some points. Perhaps it was too patient and technical? It made the game feel long and drawn out.
FM Eugene Yanayt (2nd Place, 2 Points): Nice opening squeeze by White, controlling the whole board. 13. e4 to punish Black's 12… e5 break was nice, and then great technique in the middlegame to prevent Black from ever getting an attack even with all the open files on the Kingside.
Total score of Lenderman vs Paragua: 7 Points
———————————————————————————————————————————————————————————————————-
3rd Place: NM Karthik Ramachandran (DAL) vs NM Nicholas Rosenthal (STL) 0-1
An absolutely wild game's fireworks began with 10… d4?!, leading to a very back and forth effort
FM Jason Doss (3rd Place, 1 Point): An entertaining game, but probably not in a good way. It was basically blunder-mania. It's cool and all if you're into ups and downs with ridiculous sacs left and right, but very little actually seemed sensible. It's actually kind of hilarious to try and keep up with who was tossing away the game more.
FM Eugene Yanayt (3rd Place, 1 Point): Really exciting game. A lot of fun sacrifices by Black, but they weren't exactly sound, while simply 16… Bxb4 followed by Ba3+ and Qe7 was winning. White could have survived after 16… Nc4, but he needed to find 25. Be4!
IM Jake Kleiman (3rd Place, 1 Point): The middlegame tactics were just too cool. I wanted to give this game first, but there were too many missed opportunities. Definitely a fun game though.
Total score of Ramachandran vs Rosenthal: 3 Points