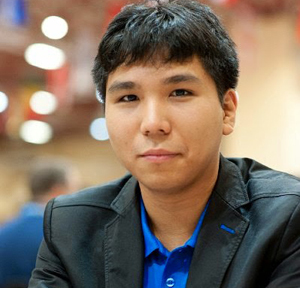 He hasn't been quite as active in his second season, but GM Wesley So has picked up right where he left off last season, winning every award in sight. This fine effort with Black against a very strong GM game him in his incredible fifth Game of the Week Award in only two seasons!
1st Place: GM Daniel Naroditsky (SF) vs GM Wesley So (MIN) 0-1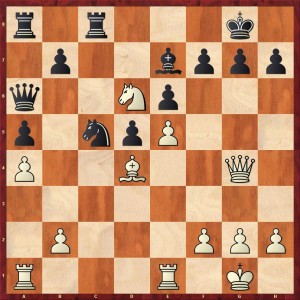 Paying no heed to the hanging Rook, GM So continued strongly with the exchange sacrifice 20… Nb3! winning in superb fashion against a very strong player
FM Jim Dean (1st Place, 5 Points): This game followed Naiditsch-Vallejo 2013 for 15 moves. Despite White's victory in that game, it appears GM So had faith in Black's opening position and played a very professional looking game. After giving up the exchange, Black kept an initiative with many accurate moves and won rather easily against a very strong opponent.
IM Yian Liou (1st Place, 5 Points): Highly interesting game from a theoretical point of view. Presumably both players are familiar with the games in the database after 13… Qb6, where White had won both games with the same position. Naroditsky's decision to deviate from Naiditsch's move of 16. Bxd7 with 16. Nd4 proved to be an unfortunate one, as Black has a slight advantage instead of a balanced game. After a inaccuracy(20. Nd6?!) from White, Wesley showed ruthless technique and precision in converting. What is startling about this game is the level of opening preparation on both sides and the tiny margin of error for games at the elite level.
IM Jake Kleiman (3rd Place, 3 Points): Nothing too flashy, but So played quite well.
Total score of Naroditsky vs So: 13 Points
———————————————————————————————————————————————————————————————————-
2nd Place: IM Georgi Orlov (SEA) vs GM Timur Gareyev (LV) 0-1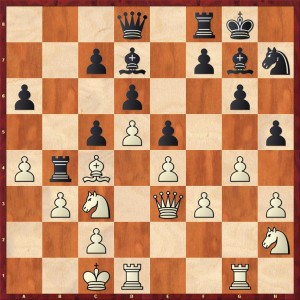 In an already interesting position, GM Gareyev through the game for another loop with the interesting 19… Rxc4! sac, leading to a very entertaining battle
IM Jake Kleiman (1st Place, 5 Points): Timur's exchange sacrifice for the "bad bishop" lead to some really interesting play with a lot of punches and counterpunches. This was the most exciting game this week.
FM Jim Dean (2nd Place, 4 Points): The opening was a bit strange, and it didn't appear that White achieved as much from it as he would have liked. Gareyev uncorked a very clever exchange sac and a complicated game ensued. White put up a good fight but came up short of Pawns in the end, making for another nice win with the Black pieces.
IM Yian Liou (2nd Place, 4 Points): After a provocative modern defense by Gareev, Orlov decided to punish Black by pushing his Pawn to d5 and pushing his Pawn to g4, an idea known in the King's Indian Defense. Unfortunately for Orlov, the resulting position was less promising than it appears. Gareev eventually equalized and started to hack away at White's overextended setup (19… Rxc4!). The resulting position, despite the extra exchange, was very difficult to defend, and after stiff resistance from Orlov, Black won.
Total score of Orlov vs Gareyev: 13 Points
———————————————————————————————————————————————————————————————————-
3rd Place: NM Richard Francisco (ATL) vs GM Julio Becerra (MIA) 0-1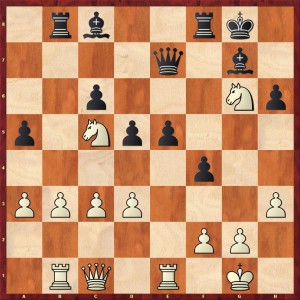 In a week dominated by victors giving up an exchange, GM Becerra continued with the strong 23… Qg5!, winning in short order
IM Jake Kleiman (2nd Place, 4 Points): This was a fun game especially with the unusual Nh8-g6 maneuver. Then some fireworks landed this game in the second position.
FM Jim Dean (4th Place, 2 Points): This was truly a very nice game from GM Becerra, but I ranked it a bit lower than the others because it was rather one-sided, and White's play looked suspect right out of the opening. Credit to Becerra for playing 23… Qg5 however, and finishing the game with pizazz.
IM Yian Liou (5th Place, 1 Point): After an unusual line (7. Nc3?!) in the 3.Bb5 Sicilian Defense, Black quickly equalized and effectively used his dynamic pawn chain in the center to restrict White's pieces and eventually checkmate White with a nice tactical flourish. I feel that White's resistance could have been a lot stronger, as his play was too passive.
Total score of Francisco vs Becerra: 7 Points
———————————————————————————————————————————————————————————————————-
4th Place: FM James Critelli (SF) vs NM Dane Mattson (MIN) 1-0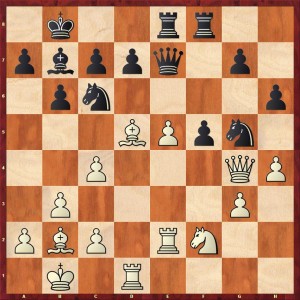 FM Critelli responded strongly to Black's aggressive 25… f5 with 26. exf6! giving him a nice endgame edge that he smoothly converted
FM Jim Dean (3rd Place, 3 Points): Another somewhat strange opening variation that resulted in a very pleasant and well constructed win for Critelli. White made excellent use of his space advantage and Bishop pair in this game. Mattson understandably tried to squirm and make a fight of it with 25… f5, but Critelli responded well and kept his foot on the gas the whole way.
IM Yian Liou (4th Place, 2 Points): An unusual variation of the French defense led to a pleasant space advantage and the two Bishops edge, which Critelli smoothly converted after Black cracked under pressure. A solid effort by White.
IM Jake Kleiman (4th Place, 2 Points): Critelli played an interesting opening, and the rest of the game was a slow grind. I would have ranked higher if there were more fireworks.
Total score of Critelli vs Mattson: 7 Points
———————————————————————————————————————————————————————————————————-
5th Place: FM Ali Morshedi (SD) vs IM Joshua Ruiz (RIO) 1/2-1/2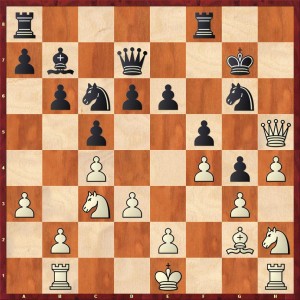 In his trademark style, FM Morshedi went forward with the bold 19. Nxg4!?, leading to some very interesting play
IM Yian Liou (3rd Place, 3 Points): Morshedi with another piece sacrifice! After a suspicious piece sacrifice against Banik (SF), Morshedi comes up with another piece sacrifice this game. A fairly standard English opening led to the over-extension of the Black pawn structure with Pawns on h5 and g4. Morshedi plays energetically to correctly punish Black's Pawn push (19. Nxg4!), but is unable to seal the deal. After mistakes on both sides during which either of them could have claimed victory, a draw was agreed. An exciting game for the spectators.
FM Jim Dean (5th Place, 1 Point): While this was a very exciting game and creative game, it seems as if both sides overlooked some key opportunities. Notably, Black overlooked 23… Bxe4, creating potential problems on e2 and g3, as well as the more difficult 31… Bf3! spike.
IM Jake Kleiman (5th Place, 1 Point): This game was exciting but finished last due to too many errors.
Total score of Morshedi vs Ruiz: 5 Points