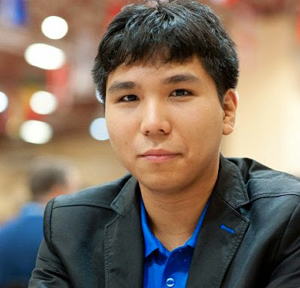 Two games which were both instrumental to their teams' advancing to the Championship Match duked it out, but in the end GM So's fine effort from an interesting middlegame to a delicate ending garnered him the top honors.
1st Place: GM Wesley So (STL) vs GM Julio Becerra (MIA) 1-0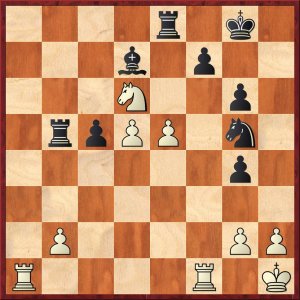 In one of many interesting moments, GM So plunged forward with 29. e6, soon forcing liquidation into an endgame that looked deceptively drawish but the elite GM had clearly seen further, converting it with ease
IM Priyadharshan Kannappan (1st Place, 2 Points): I felt Black chose a poor opening in this game, as it seemed like he didn't make any obvious mistakes but was worse in the middlegame. When I was watching the game live, I thought the Rook and Pawn endgame was a draw, but upon deeper inspection it is clearly lost for Black. The way So overpowered Becerra was outstanding. Clean and powerful play by White makes this the top choice of this week.
IM Greg Shahade (1st Place, 2 Points): It was very close between the two games. Both were impressive and clean victories against very strong opposition. I chose this game because it was simply more aesthetically pleasing to me, due to the Bxb5 trick and the more aggressive nature of White's play. To defeat the many time USCL MVP like this is worthy of Game of the Week.
IM Salvijus Bercys (1st Place, 2 Points): Tough choice but White's game here was very clean as compared to Pascal's miscalculated aggressiveness. 29. e6 was a really nice shot that propelled White into a won endgame.
FM Jason Doss (1st Place, 2 Points): Great game, not for the faint at heart! A King's Indian with a Benoni flare to it erupts into tactical combinations with the thematic e4-e5 push that sends these sorts of games spiraling out of control. Wesley So, however, makes it look smooth and contained, transposing from a better middle game to a tricky endgame. Perhaps Black has some chances to hold this game, but in a practical situation it looked ridiculously difficult to cope.
Total score of So vs Becerra: 8 Points
———————————————————————————————————————————————————————————————————-
2nd Place: GM Pascal Charbonneau (NY) vs IM Jeffery Xiong (DAL) 0-1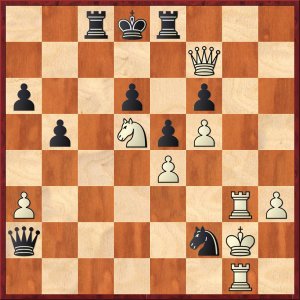 IM Xiong finished off the tricky game by starting with 35… Ng4+! with an unstoppable mating attack
IM Priyadharshan Kannappan (2nd Place, 1 Point): White started out with a non standard setup in Sicilian, and gave Black a very comfortable position out of the opening. 26. Rd2 would have preserved advantage for White, and I assume that White started making mistakes at that point of the game, due to the match situation. On move 29, White missed a big chance to finish off the game with 29. Rxg7, as Black has no way to defend the mating attack of Bg5-f6 after that.
IM Greg Shahade (2nd Place, 1 Point): Another fantastic game by Xiong. He made it look very easy this time: simply play some normal moves in the Sicilian, watch as his opponent struggles to find a plan, puts all of his chances into a somewhat desperate attack, which Xiong then repels quite handily. The key to both of these games is that they were both the difference in the match. If Xiong loses this Dallas is done and if So drew his game, St.Louis was done. This is the type of big performance you need from your star players in the last weeks of the USCL Playoffs.
IM Salvijus Bercys (2nd Place, 1 Point): The ending was impressive as was Jeffery's calm care of the position. I think 20. Rc1 may have been a better positional move rather than the ambitious 20. Qe2. Rg1 and g4 were also very questionable. Either way, Jeffery had a very solid game as Black to lead Dallas to the Championship.
FM Jason Doss (2nd Place, 1 Point): What a yo-yo of a game! Perhaps White gets a little too head-strong with his attack, going all-out trying to push g4 to start a Kingside harassment. It pays off though, when Xiong gets a tad greedy and plays 28… Nxb2 instead of the calm and safe Kf8. Then things go haywire as White misses 29. Rxg7! And the position is completely lost for Pascal. A bit too topsy-turvy for the top slot, but a really fun game to examine nonetheless.
Total score of Charbonneau vs Xiong: 4 Points