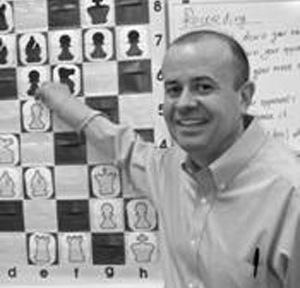 It wound up being in vain as his team fell a bit short of the score they needed, but IM Orlov capped off a fantastic season with a strong GOTW effort, yet another victory by him over a very strong player.
1st Place: IM Georgi Orlov (SEA) vs GM Alex Stripunsky (NJ) 1-0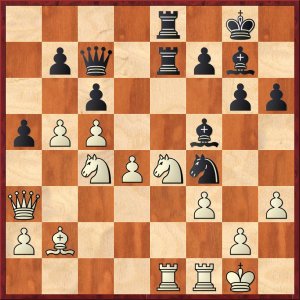 The already interesting game had a strange twist with 27… Bxh3?!, leading to extreme complications
IM Salvijus Bercys (1st Place, 2 Points): Neither game struck me as particularly interesting, but if I had to pick a winner – it's this one. Seemed like a well played game until Black went a bit overboard.
FM Arthur Shen (1st Place, 2 Points): White looked much better out of the opening, but after a few logical moves, Black had somehow seized the initiative. After a strong pawn sacrifice (22… Nd5 allowing 23. Nxe4), the position was very unclear. Black then sacrificed another piece (26… Bxh3), but Orlov defended well, and the attack fizzled out. An interesting game where both sides had their chances.
FM Jason Doss (1st Place, 2 Points): It is easy to enjoy this game from White's perspective, it feels like a good ol' fashioned squeeze. Orlov avoids committal type breaks to keep the bind up, almost to a fault. This being said, Stripunsky did a great job unweaving his pieces and fighting back to near-equality. If not for the 26… Bxh3 tactical mistake, who knows what the result might have been. Great fighting spirit here.
IM Greg Shahade (2nd Place, 1 Point): A nice positional crush by Orlov, but somehow it didn't appeal to me as much as the other game. Perhaps it's because this is the playoffs, and Seattle was eliminated despite this win while Panchanatham's win was the key point that sent San Francisco to the next round.
FM Eugene Yanayt (2nd Place, 1 Point): It looked like by move 25 Black had done quite well to more than equalize, and had a couple of attractive options. The simple 25… Rd8 is quite inconvenient for White, seems to give Black a nice initiative, and might be best objectively. But of course the flashy piece sac fits much better with Stripunsky's style and even seems to be sound! It would've been a crazy, unclear game had 27… Nxg2 been played, but after the terrible blunder 27… Qd7 it was just over. It's too bad that following the blunder, the rest of the game was uninteresting.
Total score of Orlov vs Stripunsky: 8 Points
———————————————————————————————————————————————————————————————————-
2nd Place: NM Vignesh Panchanatham (SF) vs NM Kapil Chandran (CON) 1-0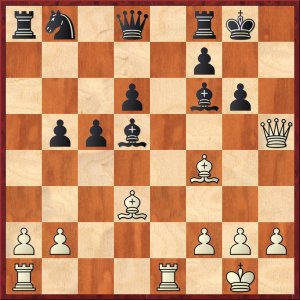 In a dominating performance, NM Panchanatham effectively finished the game 17. Bxg6!, winning decisive material
IM Greg Shahade (1st Place, 2 Points): A very impressive crushing win for Panchanatham. This is why San Francisco is so dangerous … their third and fourth boards are very talented young players who are always ready to play. They will definitely give Dallas a run for their money in the Quarterfinals of the playoffs.
FM Eugene Yanayt (1st Place, 2 Points): White did an excellent job maintaining at least full compensation for the gambited pawn, and exhibiting perfect technique once Black faltered. Though to be fair, the convincing nature of White's win was due to Black's blunder on move 13. It seems after 13… g6 White really wouldn't have had much. Still, start to finish I found White's level of play in this game more impressive than that of the other finalist.
IM Salvijus Bercys (2nd Place, 1 Point): Interesting tactic in the early game but besides that – just a normal game with little GOTW qualities.
FM Arthur Shen (2nd Place, 1 Point): I've never seen 5. e4 before, but it looks very dangerous and is my computer's top choice. White had a strong initiative out of the opening, and never let up. A smooth game from White, with some nice tactics (13. Nxh7! followed by 17. Bxg6!), but Black didn't defend well enough for this game to be ranked first.
FM Jason Doss (2nd Place, 1 Point): A bit of a blood-bath. White was really in the driver's seat from beginning to end. A cool (and typical) d5 pawn sac to open lines early leads to some tactical shots on both the King AND Queenside. The White-squared combinations between the squares h7-h5-d5-g8-d3-a8 are noteworthy for those teaching/learning about tactical themes. Black's pieces along the back-rank were never really developed smoothly.
Total score of Panchanatham vs Chandran: 7 Points