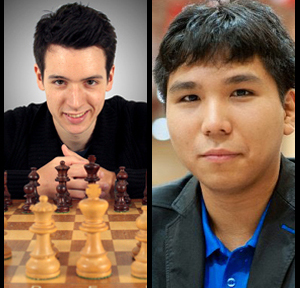 Draws certainly don't win GOTW all that often in the USCL, so a second draw winning in only three weeks with remarkably one of the same players certainly is something unexpected. To see GM Huschenbeth's extensive video analysis of the game click here!
1st Place: GM Niclas Huschenbeth (BAL) vs GM Wesley So (STL) 1/2-1/2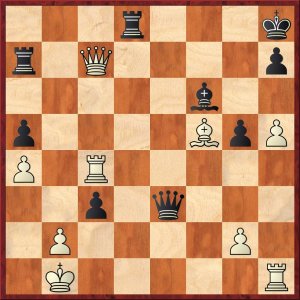 In an already very interesting game, GM Huschenbeth threw the game for another loop with the pretty tactic 32. Rxc3!!
GM Giorgi Margvelashvili (1st Place, 5 Points): Very entertaining game, where both players played at a very high level. Position was more or less equal before Wesley overlooked 32. Rxc3! This gave Niclas an extra pawn in the endgame, but opposite colored Bishops made it easier for Wesley to defend. Great game by both sides!
FM Jason Doss (1st Place, 5 Points): Well fought! Both sides walked a tight-rope to maintain the balance yet keep the initiative flowing. Both of the Kings are somewhat precarious, but threats keep either side from creating a finisher. Eventually the tension can't be maintained and transitions into another tight-rope maneuver in the endgame as well. The result of the game was rarely ever known and kept us guessing. The combination of crisp tactics, subtle maneuvers, and fighting spirit made this one a no brainer as top pick for me.
IM Greg Shahade (1st Place, 5 Points): I have a thing for well played draws, as it shows the appreciation not to just one player but to both. As far as I could tell this was a very exciting and well played one, with both sides attacking the other's King and with quite a few cool moments such as Huschenbeth's 32. Rxc3, and So allowing 36. Re8+.
FM Arthur Shen (2nd Place, 4 Points): Out of the opening it looked like Black had a nice initiative. Perhaps White missed some opportunities, but after 25. Nxe6?! it was clear Black was in the driver's seat. However, Huschenbeth defended well and after some mistakes from So even ended up in a better Bishops of opposite color endgame. Even with my computer I can't tell if the endgame was winning at some point. A very interesting effort from both players.
IM Salvijus Bercys (5th Place, 1 Point): There are too many interesting wins to place a draw first. Interesting game but plenty of draws have interesting fights in them. It needs to be crazy good.
Total score of Huschenbeth vs So: 20 Points
———————————————————————————————————————————————————————————————————-
2nd Place: GM Gata Kamsky (NY) vs GM Alexander Ivanov (NE) 1-0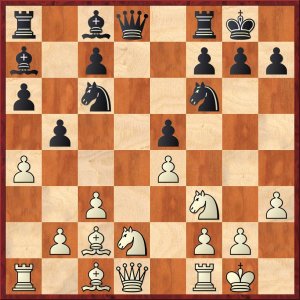 With the unusual looking prophylactic 13. Kh2!, GM Kamsky's standard squeeze approach scored him a nice victory
FM Arthur Shen (1st Place, 5 Points): Kamsky somehow makes beating GMs look easy. It wasn't clear where Ivanov went wrong, but White got very nice position that Kamsky cleanly converted.
GM Giorgi Margvelashvili (2nd Place, 4 Points): Impressive win by Kamsky. 13. Kh2! is a very deep prophylactic move. The idea is to exchange Pawns on b5 followed by Qe2. With the King on g1 this iss impossible, since Black would take on f2 with check, winning an exchange. 17. Be3! is another exceptional move, giving White a solid advantage in the endgame. Advantage easily converted into the full point. Typical Kamsky game.
IM Salvijus Bercys (2nd Place, 4 Points): Kamsky redeems himself to an extent. Nicely executed positional strangle is every positional player's dream – Knight on c5 was a monster. Perfect example of how to convince your opponent to open up the position to create more weaknesses to attack.
FM Jason Doss (4th Place, 2 Points): A straight up solid game typical of the Kamsky tradition. The game features a solid Ruy Lopez with very little bite and many heavy exchanges. For the most part it is pretty one-sided, with Ivanov hanging a Pawn, and then Gata squelches him. It is a good game for White, a terrible one for Black.
IM Greg Shahade (5th Place, 1 Point): Kamsky is finally finding his groove, which means that the rest of the USCL is in some trouble. However as well as Kamsky may have played, this game just doesn't inspire the imagination nearly as much as the other candidates this week.
Total score of Kamsky vs Ivanov: 16 Points
———————————————————————————————————————————————————————————————————-
3rd Place: IM Georgi Orlov (SEA) vs GM Melikset Khachiyan (LA) 1-0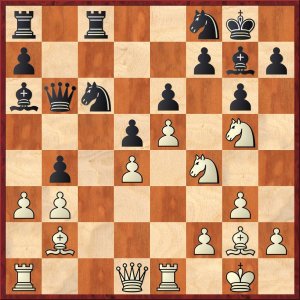 IM Orlov played the strong idea 20. Nxd5! creating two very strong central Pawns which eventually ensured his victory
IM Salvijus Bercys (1st Place, 5 Points): Is there anything I need to say? A very solid showing by Orlov and near perfect execution and technique. It really felt hopeless just watching Black to try and unravel. Combined with a couple of well timed tactical shots, this is the best game of the week.
GM Giorgi Margvelashvili (3rd Place, 3 Points): Black managed to fully equalize after the opening, but clearly underestimated the 20. Nxd5 idea. Giving up the light-squared Bishop looked dangerous at first, but White's central pawns were simply too strong, Melikset clearly missed 31. e6!, which finally sealed the deal in Georgi's favor.
FM Arthur Shen (3rd Place, 3 Points): A nice game from Orlov. After 18… Rfc8 Khachiyan's Kingside is a bit loose, and 19. Ng5!, planning to sacrifice a piece somewhere, capitalized on that. Perhaps Black had better ways of defending, but the position was already very difficult. Ng5 was a nice idea, but the rest of the game seemed easy for someone of Orlov's caliber.
FM Jason Doss (3rd Place, 3 Points): The d5-square is apparently a theme this week. It begins with a nice Knight-sacrifice on d5 which leads to a central Pawn-storm and break through. There are some very flashy tactics to attempt to calculate with the Pawn breaks on e6 and exchanges around the King. I enjoy the sophistication of the attack and the evolution into a slightly technical ending (whilst never in doubt of the result however).
IM Greg Shahade (4th Place, 2 Points): It seems like Nxd5 is always the winning move. In both this game and the Francisco game, Nxd5 was the crushing blow, although it wasn't particularly complicated in either spot. Why do I rank this game lower? I have no idea, I have to choose somehow right? I guess when it's a tie I give it to the lower board :)
Total score of Orlov vs Khachiyan: 16 Points
———————————————————————————————————————————————————————————————————-
4th Place: IM Marc Esserman (BOS) vs IM Farai Mandizha (MAN) 0-1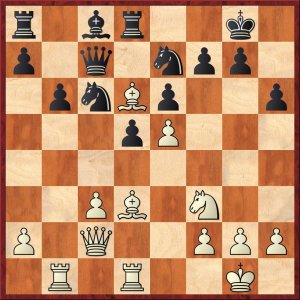 With 15… Rxd6, the first of two eventual exchange sacrifices, IM Mandizha turned the tables on a White opening geared towards sacrificing itself and scored an interesting win
FM Jason Doss (2nd Place, 4 Points): Two exchange sacrifices for full compensation and then some! I strongly liked how Mandizha man-handled the Smith-Morra gambit. I'll admit as to having an aversion to most games played by Esserman. I usually end up with a sort of gross feeling after seeing them. But as a seasoned Sicilian player myself, this left me with a lot of smiles after.
IM Greg Shahade (2nd Place, 4 Points): I have always thought that anyone who allows Esserman to sacrifice the pawn in the Smith-Morra gambit is out of their mind and is likely to get crushed. It's no surprise that Mandizha, being a creative and unorthodox player himself, is the one to pick up the gauntlet and not only beat Esserman but to do it in style while being down two exchanges.
GM Giorgi Margvelashvili (4th Place, 2 Points): White got a decent compensation for the sacrificed pawn in the opening, but made a serious inaccuracy on move 17. Had Marc played 17.c4, position would have remained balanced, with draw being the most likely result. 17. Qe2? proved to be too slow, and White never had a chance to get back into the game. Nice win by Farai.
FM Arthur Shen (4th Place, 2 Points): Esserman got to play his favorite Smith-Morra, but never got anything special. He must have underestimated Mandizha's exchange sacrifice, which left White under a lot of pressure. White cracked at some point, and Black, somehow down two exchanges at some point, converted nicely.
IM Salvijus Bercys (4th Place, 2 Points): I can't believe someone who is known for his Morra got such a bad position out of the opening. He must have confused some of his home prep. Black's win seems more like a White loss.
Total score of Esserman vs Mandizha: 14 Points
———————————————————————————————————————————————————————————————————-
5th Place: NM Richard Francisco (ATL) vs FM Robin Cunningham (CAR) 1-0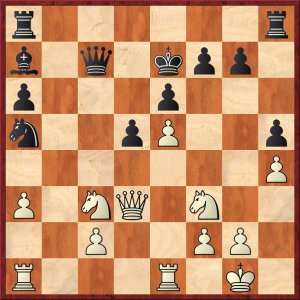 NM Francisco smashed his way to the Black King with 18. Nxd5+! helping lead Atlanta to the first sweep of the 2014 Season
IM Greg Shahade (3rd Place, 3 Points): A fun game by Francisco that helped Atlanta to a shocking sweep over the Cobras. Admittedly Cunningham really was asking for it when he played 17… Kxe7 instead of just taking with the Queen. The follow up with 19. e6 is quite nice too.
IM Salvijus Bercys (3rd Place, 3 Points): I don't believe the sacrifice was sound even without a computer. 19… Kd6 maybe? Complicated, but far from lost.
GM Giorgi Margvelashvili (5th Place, 1 Point): 18. Nxd5 followed by 19. e6 was brilliant, but both players made too many mistakes. White could have easily won the game in one move (20. Qxd5), and Black also missed 21…Qd7 with a decisive advantage.
FM Arthur Shen (5th Place, 1 Point): Black blundered with 17… Kxe7, allowing the attractive 18. Nxd5+!. However, Francisco missed the computer's follow up 20. Qxd5 Qb6 21. Rabl! Qxf2+ 22. Kh1, trapping the Knight on a5. Black had chances to defend but missed them, and White wrapped the game up pretty cleanly. An exciting game, but definitely not perfect.
FM Jason Doss (5th Place, 1 Point): Lots of fireworks in this one. Francisco rightly evaluates a Knight + Pawn sacrifice to blow the King wide open. The game is a very entertaining pursuit and fun to try and find the most accurate path for White's victory. That being said, it was also full of blunders as both sides missed several important moves. I can't rank it very high, but I enjoyed it nonetheless.
Total score of Francisco vs Cunningham: 9 Points