Board Two had several potential candidates, but who wound up sneaking in and who barely missed? Read on to find out!
If you are wondering what criteria was used to determine these All Stars, please refer to the first post on this subject.
————————————————————————————————————————————————————————————————————–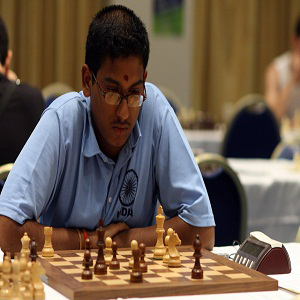 1st Team:
IM Priyadharshan Kannappan (STL)
This was the only clear decision amongst the Board Two candidates as IM Kannappan played far more games than his competitors, had a fantastic winning percentage (en-route to becoming League MVP), and had many pivotal victories for his team, several of which were against GMs.
In all, it was a truly fantastic and memorable first season for IM Kannappan. And though the last match of his season ended in disappointment, his great performance was clearly the foremost reason why the Arch Bishops made their first postseason foray, in what was by far their most successful season.
The only tough part about having such an amazing first season is that he might have created an act which will be hard for him to follow in future seasons. But if he can even come close, one should expect to see the St. Louis team contending to capture the League Title for many years to come.
Record: 8.5 / 11 (77%)
Performance Rating: 2701
————————————————————————————————————————————————————————————————————–
2nd Team:
IM Georgi Orlov (SEA)
This was a tougher choice as IM Orlov, like several other contenders, scored plus two and was not quite as active as some others. However, we felt the pivotal nature of many of his performances, in particular his Quarterfinal win (really all three of his playoff games wound up being huge), should give him the nod for the second spot.
While IM Orlov has never been one of the more active members of the Sluggers, his importance can certainly not be understated as, like his teammate GM Akobian, the Seattle was shown to be a completely different team with and without him in the lineup, going an incredible 6-0 in matches in which he played.
Seattle has not tended to be a team to really dominate their division, just a strong, solid team who can always prove to be very good, a factor in which Orlov plays heavily into. And with this year's run, the League will have to be on notice next year that whenever Seattle brings their top two guns to the battle, that they shall be a force to be reckoned with.
Record: 4.0 / 6 (67%)
Performance Rating: 2648
———————————————————————————————————————————————————————————————————————————————————————–
3rd Team:
IM Levon Altounian (ARZ)
This was also not a completely clear choice as a few other players had similar general stats to IM Altounian. In the end, what really made the difference was Altounian's huge playoff win over MVP IM Kannappan which sent Arizona into the Semifinals when it looked like all hope was nearly lost.
Altounian has, for many seasons, been the real backbone of the Arizona team, always performing very solidly while quietly adding huge wins when the need arises – a big part of Arizona's three playoff runs in the last four seasons.
As a now two time All Star, the Scorpions clearly have a great long term weapon in their arsenal as they still chase the League Championship which has so far eluded them. But with a multiple time All Star hopefully contributing to their effort for many years to come, it seems, like for many teams, that the stars will eventually align for Arizona as well.
Record: 5.0 / 8 (63%)
Performance Rating: 2550
———————————————————————————————————————————————————————————————————————————————————————–
Other Candidates:
The closest other person to making the team was GM Kazim Gulamali (BOS) (5.0 / 8, 2555 Performance). Statistically, he was very similar to IM Altounian, both having some small things in their favor, but as mentioned we felt IM Altounian's big postseason win should give him the nod for the spot. Nevertheless, it was a great first season from FM Gulamali, helping the Boston team tremendously in the middle boards.
Two other players who scored nice +2 performances but not quite strong enough to get them on the All Star Team (mostly due to lacking postseason contributions) were GM Joel Benjamin (NJ) (4.5 / 7, 2598 Performance) and IM Daniel Naroditsky (SF) (3.5 / 5, 2669 Performance).
Stay tuned as we will announce the All Stars for the other two boards in the upcoming days!