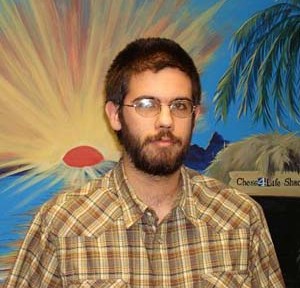 In a game which wound up being the match difference and helped the Sluggers overcome draw odds to make it to the Championship, NM Sinanan's clean win netted him the Semifinal prize.
1st Place: NM Joshua Sinanan (SEA) vs IM Shahin Mohandesi (ARZ) 1-0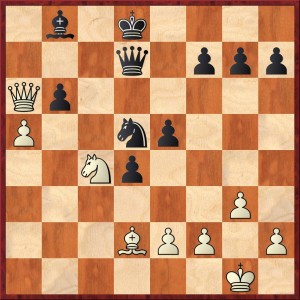 After a strong Queenside attack, NM Sinanan nicely finished the game with 28. Qa8!, with White's tactics quickly proving decisive.
GM Alex Yermolinsky (1st Place, 2 Points)
IM John Bartholomew (1st Place, 2 Points): A topical Catalan game that NM Sinanan handled with remarkable ease. I like his methodical, step-by-step play: obtain a Queenside majority, exchange both pairs of Rooks, coordinate the remaining minor pieces, and create decisive threats with his passer. 28. Qa8! was a precise concluding stroke.
IM Victor Shen (1st Place, 2 Points): Extremely important win for Seattle.
FM Elliot Liu (1st Place, 2 Points)
FM Kayden Troff (2nd Place, 1 Point): NM Sinanan played really well, but I would have liked it more if IM Mohandesi had given him more problems to solve as White just got a solid position out of the opening and kept it.
The two points I mostly liked for White were when he traded the Rooks, conceding the c-file but eliminating any real counterplay, and when he played 28. Qa8! – the moment where Black's position really collapsed because of the different tactical ideas. Overall I did like the game, I felt like FM Gorman showed some more creativity and had some ideas that excited me a little bit more.
Total score of Sinanan vs Mohandesi: 9 Points
———————————————————————————————————————————————————————————————————-
2nd Place: NM Andrew Shvartsman (MAN) vs FM Dov Gorman (PHI) 0-1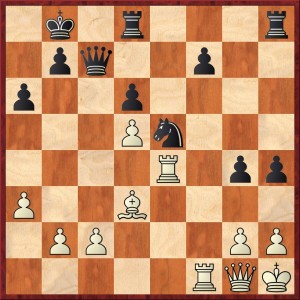 After a nice build-up, FM Gorman plunged forward with 27… h3!, and the pressure quickly proved too much for White to handle.
FM Kayden Troff (1st Place, 2 Points): Two very solid games this week from two really solid USCL players FM Gorman and NM Sinanan. I enjoyed some of the creativity FM Gorman showed here, and he had some great maneuvres! I liked the ideas of 13… Bg4 and 13… Be6 weakening the position of White's Queen also the idea of 21… Qc5 and 22… Qc7 which cleared the e5 square for Ne5. And then 23… Ne5 cleared the g4 square for his Pawn and helped with playing h3 which really brought Black the win. Overall I liked how Black's's moves really built on one another and lead to a really solid win for him and his team.
GM Alex Yermolinsky (2nd Place, 1 Point)
IM John Bartholomew (2nd Place, 1 Point): Another smooth game, this time by the league MVP runner-up, FM Gorman. While I enjoyed Black's play, this game was somewhat less competitive than Sinanan vs Mohandesi. Looking forward to seeing FM Gorman in the Championship (Philadelphia would be crazy not to play him!).
IM Victor Shen (2nd Place, 1 Point): A strong performance by FM Gorman, but I felt like White didn't put up enough resistance to take the top spot this week.
FM Elliot Liu (2nd Place, 1 Point)
Total score of Shvartsman vs Gorman: 6 Points