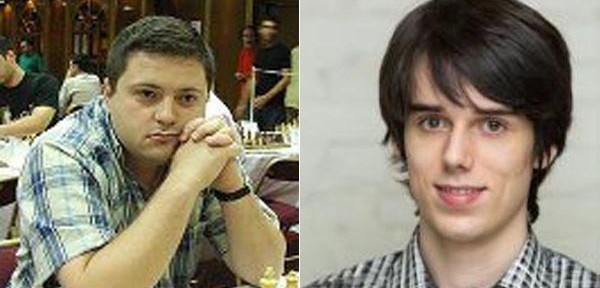 In a close vote, a remarkable third draw this season took the top honors for the Week 9 Contest, with GM Gelashvili getting his impressive second straight GOTW honor.
1st Place: GM Tamaz Gelashvili (NY) vs SM William Fisher (PHI) 1/2-1/2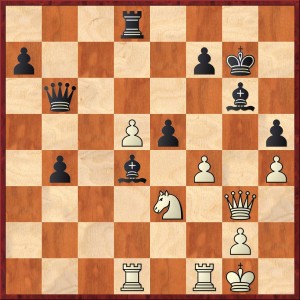 The already interesting game had another strange twist with 37. fxe5?!
GM Alex Yermolinsky (1st Place, 3 Points)
IM John Bartholomew (1st Place, 3 Points): This game was absolutely bonkers, in the style of Rodriguez vs Sarkar from Week 6. GM Gelashvili executed White's strategy in the Giuoco Pianissimo to perfection, and it seemed like Black's position was close to collapsing around move 21. Amazingly, this is where SM Fisher played himself back into the game. Beginning with the exchange sacrifice 25… Rxd5! he essayed a series of accurate responses that beat back White's attack and led to threats of his own (34… b5!). To his credit, GM Gelashvili adjusted well and even unleashed additional waves of attackers (38. f4!?, 41. e6!, 43. g4!?)! SM Fisher finally called an end to the hostilities with 44… b1=Q 45. Rxb1 Kh7!, leading to a convoluted draw by perpetual (which, by the way, was not easy to discern!). This week was extremely difficult to judge, but the staggering resourcefulness and accuracy of the competitors in this game really stood out to me.
FM Elliot Liu (1st Place, 3 Points)
IM Victor Shen (2nd Place, 2 Points): Very exciting and resourceful game by both players but too many mistakes for the top ranking.
WGM Jennifer Shahade (2nd Place, 2 Points): Roller coaster game. White got a big initiative after 22. Bb3, but Black fought back admirably until White had to save himself with a perpetual. Lots of really interesting sub-variations, it would be useful to train your tactics with this game
Total score of Gelashvili vs Fisher: 13 Points
———————————————————————————————————————————————————————————————————-
2nd Place: GM Varuzhan Akobian (SEA) vs GM Vinay Bhat (SF) 1-0
With 25. Rc1!, GM Akobian sacrificed his Queen for a dominating bind which he quickly showed to be decisive
IM Victor Shen (1st Place, 3 Points): GM Bhat;'s opening play seems a little suspicious, and GM Akobian kept the pressure on until a nice queen sac rounded the game off.
WGM Jennifer Shahade (1st Place, 3 Points): Loved the precise opening play and allowing his Queen to get trapped. Even after GM Akobian was totally winning, it was fun to watch the White pieces overwhelm Black along with the King march to the center.
GM Alex Yermolinsky (2nd Place, 2 Points)
IM John Bartholomew (2nd Place, 2 Points): A nice game by GM Varuzhan Akobian. I get the feeling that GM Bhat wasn't totally comfortable facing the Exchange Slav, as he handled the opening in somewhat dubious fashion. Still, he would have been very much in the game had he played 24… Rc2!, posing White awkward problems on the second rank. Instead, after 24… Rc7? White essayed a pretty and decisive queen sacrifice (25. Rc1!) that led to the annihilation of the Black position.
FM Elliot Liu (2nd Place, 2 Points)
Total score of Akobian vs Bhat: 12 Points
———————————————————————————————————————————————————————————————————-
3rd Place: IM Jonathan Schroer (CAR) vs GM Julio Sadorra (DAL) 0-1
With the well calculuated 26… Qd7!, GM Sadorra soon showed White's threats to be non-threatening and then capitalized on his extra material
GM Alex Yermolinsky (3rd Place, 2 Points)
IM John Bartholomew (3rd Place, 2 Points): GM Julio Sadorra has performed exceptionally for Dallas on Board One, and I think the league is starting to wise up to the fact that he is ridiculously well-prepared in the opening (along with his teammate, GM Conrad Holt!). IM Schroer followed theory in the Timman Variation of the Tarrasch, but with 20… d3!, Black confidently seized the initiative. White immediately erred with 21. Nd6?, though only 25. Qd5? really put this one out of reach (25. Kf1! was necessary, with neat complications after 25… Be6!!). The rest was very easy for Black.
IM Victor Shen (3rd Place, 1 Point): Some nifty tactics caught White by surprise.
WGM Jennifer Shahade (3rd Place, 1 Point): Brave and accurate analysis by GM Sadorra, allowing IM Schroer to play 24. Qxf7+ but with no good-follow up except the weird looking Kf1.
FM Elliot Liu (3rd Place, 1 Point)
Total score of Schroer vs Sadorra: 5 Points