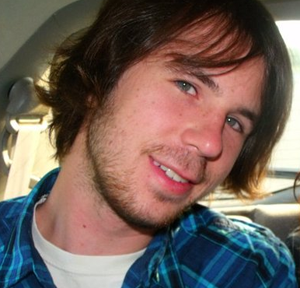 In another very close overall vote, again a mere two points separating first and third, NM Defibaugh's quick sacrificial and attacking effort took the Week 7 prize.
1st Place: NM Jared Defibaugh (BAL) vs NM Justus Williams (NY) 1-0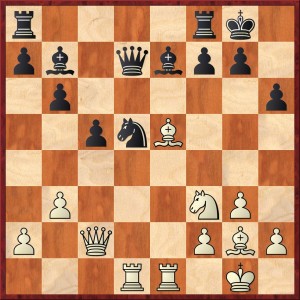 With 20. Bxg7!, NM Defibaugh started a nice sacrificial attack which quickly proved decisive
GM Alex Yermonlinsky (1st Place, 3 Points)
IM Victor Shen (1st Place, 3 Points): My one knock on this game was that Black played 21… Qd8 instead of the much better and more natural 21… Qd6. Otherwise, nice game by White.
FM Elliot Liu (1st Place, 3 Points)
IM John Bartholomew (3rd Place, 1 Point): A brutal demolition by NM Defibaugh. NM Williams was a bit too eager to achieve …c6-c5 (perhaps 16… Rad8 is an improvement), but only NM Defibaugh's vigorous play (17. d5!, 20. Bxg7!, etc.) revealed the error of Black's ways. I want to rank this game higher, but it was extremely one-sided.
FM Kayden Troff (3rd Place, 1 Point): NM Defibaugh played a nice sacrifice with 20. Bxg7, which would have given him a better position after 20… Kxg7 21. Ne5 Qe6 22. Nc4 Qg6 23. Qxg6+ fxg6 24. Bxd5. But NM Williams (not willing to give up) tried to keep the extra piece, but after moves like 22. Qc4, 24. Qg4+, and 27.Ng6, his position collapsed. A week of different sacrifices!! I enjoyed this game, but not quite as much as the other two.
Total score of Defibaugh vs Williams: 11 Points
———————————————————————————————————————————————————————————————————-
2nd Place: IM Priyadharshan Kannappan (STL) vs FM Kassa Korley (CAR) 1-0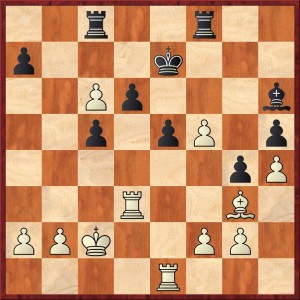 MVP Leader IM Kannappan uncorked the strong 28. Bxe5! establishing a strong bind which eventually proved decisive
IM John Bartholomew (1st Place, 3 Points): IM Kannappan is running away with League MVP honors, and his games certainly reflect a player who is much stronger than his actual rating. Here he's firing on all cylinders as he sacrifices a Bishop and accurately converting his advantage against the always-dangerous FM Kassa Korley. A GOTW-worthy effort.
GM Alex Yermolinsky (2nd Place, 2 Points)
FM Kayden Troff (2nd Place, 2 Points): Some good play by IM Kannappan unleashing a beautiful sacrifice to win the game. With the Queens coming off early it seemed possible that this game might not see much action, but IM Kannappan unleashed 28. Bxe5, and his Rooks worked very nicely with his Pawns, and FM Korley could do nothing to stop the eventual promotion so succumbed.
FM Elliot Lius (2nd Place, 2 Points)
IM Victor Shen (3rd Place, 1 Point): Nice piece sac for domination, but really had Black not allowed that he should have been okay.
Total score of Kannappan vs Korley: 10 Points
———————————————————————————————————————————————————————————————————-
3rd Place: IM Mackenzie Molner (ARZ) vs GM Conrad Holt (DAL) 1/2-1/2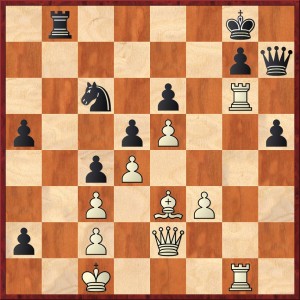 While IM Molner was creating mating threats on the Kingside, GM Holt was on the verge of creating a second Queen fairly early in the game. But which side is actually winning? After some more interesting play, the exciting game eventually ended in a perpetual
FM Kayden Troff (1st Place, 3 Points): Both sides were pushing their Pawns on opposite sides, and after IM Molner looked to be a little faster, GM Holt sacrificed the exchange and seemed to have a solid position. Quickly White sacrificed his g-pawn to keep the file open and instead of trying to defend, Black continued his attack on the Queenside. After Black sacrificed his Bishop and Queen for White's two Rooks to promote his Pawn it seemed like White would actually then be the one in trouble. However, after getting his Queen in Black was unable to avoid White's checks, and a draw came about. A lot of exciting play and different sacrifices to make this not only exciting, but GOTW worthy for me!
IM John Bartholomew (2nd Place, 2 Points) An entertaining and balanced affair between two of the most well-prepared USCL players. GM Holt (who seems to reach the GOTW finals nearly every week!) had the position after 17. g4 against GM Ray Robson earlier this year, but here he decides to deviate with 17… a5 (a novelty). IM Molner reacted well, but the advantage never swung too much in either direction. A promotion followed by a perpetual was a fitting culmination to this game.
IM Victor Shen (2nd Place, 2 Points): Resourceful game by both players.
GM Alex Yermolinsky (3rd Place, 1 Point)
FM Elliot Liu (3rd Place, 1 Point)
Total score of Molner vs Holt: 9 Points